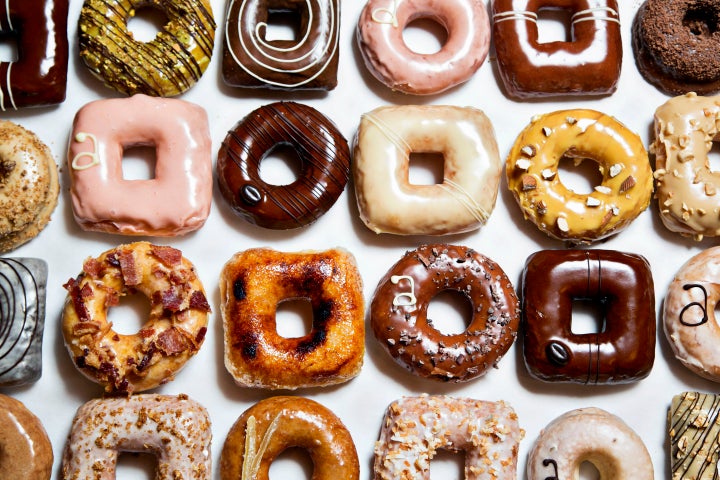 GBD officially opened last week, while Astro debuted today after hosting pop-ups earlier in 2013.
Why did two shops with nearly identical concepts open within a week of each other? Writing in the Washington City Paper, Jessica Sidman notes that "if it's popular in D.C. now, there's a good chance it was popular somewhere else first," and that foods like doughnuts and fried chicken are "steeped in nostalgia."
At Astro, Pastry Chef Jason Gehring (formerly of Fiola and Poste Moderne Brasserie) offers two types of fried chicken -- his family's buttermilk recipe and Korean-style with spicy garlic or Sriracha -- plus a combination of six daily doughnut flavors and a rotating selection of specials.
Astro's Everyday Doughnuts:
Vanilla Glazed
Brooklyn Blackout
Maple Bacon
Peanut Butter & Jelly
Crème Brulée
Twink-nut
GBD comes from Chef Kyle Bailey & Pastry Chef Tiffany MacIsaac, the husband-and-wife team behind Birch & Barley. Start the day with fried-to-order doughnuts or chicken on a biscuit; later in the afternoon, lunch combos with fried chicken, Kohlrabi cole slaw and a biscuit are available for under $10. GBD will also serve a yet-unannounced dinner menu.
Classic
Cruller du Jour
Bourbon Butterscotch
Grapefruit Campari
Tres Leches
Carrot Cake
Key Lime Pie
Devil's Food
Chocolate-Filled Brioche
Apple Fritter
Joe Cake
Doughnuts aren't just a hot trend in Washington. Take a behind the scenes peek inside New York City's popular Doughnut Plant, then check out a few ways to burn off the calories from your favorite junk foods.
PHOTO GALLERY
Burn Calories From Guilty Pleasures
BEFORE YOU GO