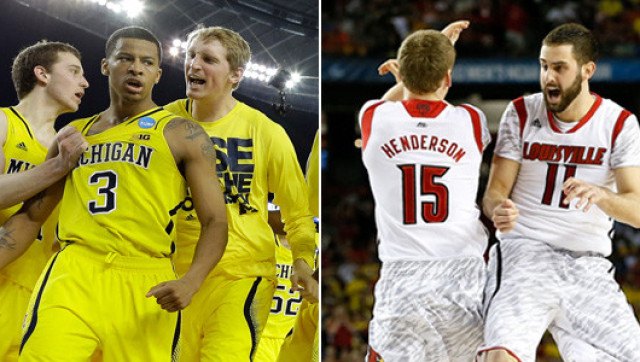 After 66 games, the field of 68 teams in the 2013 NCAA Tournament has been narrowed down to a pair of finalists: The No. 1 overall seed Louisville Cardinals will face off with the fourth-seeded Michigan Wolverines for the national championship. In a matchup between Louisville's tenacious defense and Michigan's multi-faceted offense something has got to give.
No. 1 Louisville Cardinals
(34-5, 14-4 Big East)
vs.
No. 4 Michigan Wolverines
(31-7, 12-6 Big Ten)
Tip-Off Time: 9:23 PM ET
Georgia Dome
Atlanta, Ga.
On Monday night, Rick Pitino's Cardinals will throw their full-court pressure at Michigan's Trey Burke, this year's John Wooden Award winner and AP Player of the Year.
"We know how good Burke is. We just have to be prepared for what he's getting ready to bring," Louisville's Russ Smith said on Sunday, via The Sporting News.
The Wolverines have already faced formidable defense during the tournament. In the third round, they demolished the "Havoc" of VCU. In the national semifinals, Michigan even solved Jim Boeheim's vaunted 2-3 zone defense. With Mitch McGary flourishing in the paint and several high-talent options on the wings, Burke leads arguably the most talented attack -- and inarguably the youngest -- in the tournament.
But can they withstand the Louisville pressure?
For its part, Louisville steamrolled opponents in the early rounds before grinding down Oregon and Duke in the Sweet 16 and Elite Eight. The Cards ultimately blew out No. 2 Duke in the regional final by more than 20 points despite losing guard Kevin Ware to a horrific injury. In the Final Four, No. 9 Wichita State nearly pulled off a major upset but Louisville came out on top in what Pitino called a "dog fight."
In a matchup that may be more like a horse race (something Pitino knows a bit about), does Louisville have the thoroughbreds to keep pace with Michigan? The oddsmakers in Las Vegas seemed to think so, installing Louisville as 4-point favorites after the matchup was set, according to the Las Vegas Sun.
The top choice of the selection committee and the consensus pick of the experts ahead of the tournament, the Cardinals have done everything expected of them thus far but Burke, McGary and company are poised to provide their toughest test yet.
Will Pitino become the first coach in history to win the national championship with two different schools? Or will these youthful Wolverines bring the title back to Ann Arbor on the 20th anniversary of the Fab Five's infamous defeat against North Carolina?
Scroll down for live updates and tweet @HuffPostSports to join in the conversation.
04/09/2013 12:01 AM EDT
MOP
Luke Hancock named Most Outstanding Player.
04/08/2013 11:55 PM EDT
@ eamonnbrennan :

Louisville awash in confetti and streamers "We Are The Champions" blares from the Georgia Dome speakers.
04/08/2013 11:55 PM EDT
@ jppalmCBS :

Cards crashed the glass hard in the 2nd half. Outrebounded UM 20-10, 11-1 on the offensive glass.
04/08/2013 11:50 PM EDT
@ AdamZagoria :

Rick Pitino is now at 664 career victories, the exact same number as legendary UCLA coach John Wooden.
04/08/2013 11:50 PM EDT
@ DickieV :

Congrats to Rick Pitino and the Cardinals for winning it all...what a great game! Pitino is the star of stars in the coaching fraternity!
04/08/2013 11:49 PM EDT
@ rushthecourt :

That was a fun, fun game. Wish they all were that spectacular. Only thing missing was a super ending. But I'll take it.
04/08/2013 11:48 PM EDT
@ GaryParrishCBS :

Chane Behanan just got himself two cheerleaders. One in each arm. BeastMode, for sure.
04/08/2013 11:47 PM EDT
@ jppalmCBS :

Great run in the tournament by Michigan as well. Played their butts off tonight. Other team was just a little better.
04/08/2013 11:46 PM EDT
Pitino
Rick Pitino is the first coach ever to win 2 national championships at 2 different schools.
04/08/2013 11:46 PM EDT
GAME OVER
LOUISVILLE WINS THE NATIONAL CHAMPIONSHIP, 82-76.