Nathan Walsh is a British painter who can't get enough of urban landscapes. The artist pays tribute to places like New York City and Chicago via painstaking details in the paintings below. Scroll down for images.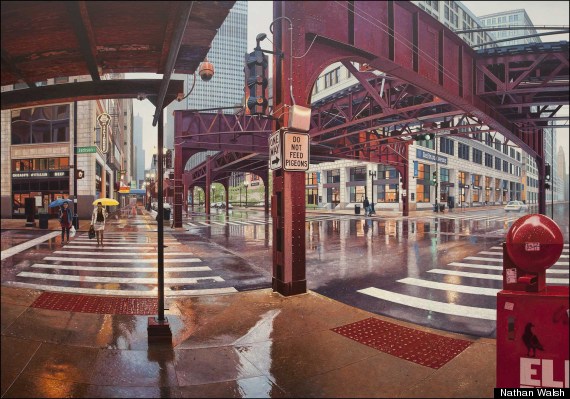 Unlike other photorealistic painters, Walsh does not rely solely on a camera to prep for his paintings. He produces up to 100 sketches in order to recreate an urban scene, a process that can take up to three or four months, according to the blog Colossal. The work pays off in vivid, complex paintings that Walsh describes on his website:
"I am fascinated by the city, it's visual complexity and constant state of flux. The act of painting is an attempt fix this information and give vision to our experience of living within it."
Walsh will be showing his work later this year at Bernarducci Meisel Gallery in New York. The tech-friendly artist has also been collaborating on an app called "Repentir" that allows users to explore the intermediary stages of a painting, so get ready to see more of his process in the months to come.
Scroll through the slideshow below for a sneak peek of some of Walsh's works and let us know what you think of his creations in the comments.
PHOTO GALLERY
Nathan Walsh
Correction: In a previous version of this article, we stated that Walsh does not use a camera to create his works. We have updated the information at the artist's request.