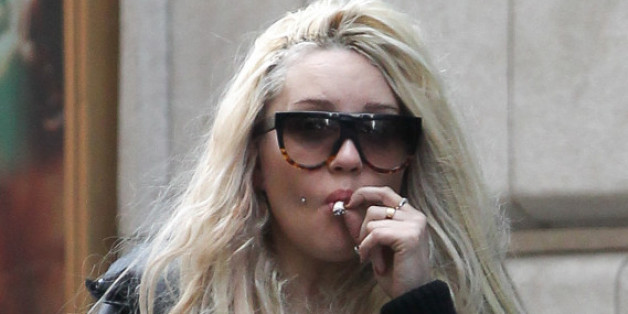 The tragic tale of what appears to be Amanda Bynes' very public breakdown continues, as the actress was spotted on Monday smoking what may have possibly been a marijuana cigarette.
Photographers snapped photos of the 27-year-old, who appeared particularly disheveled on a stroll through Times Square, while wearing a gray hoodie under a black puffy coat, black leggings and Ugg boots, and carrying an oversize Louis Vuitton bag. Bynes was also sporting hair extensions and it appears as though she might have received a chemical haircut, as she tweeted that a hairstylist "fried" her hair, and posted a photo of what her hair used to look like.
I love my hair this way! This is before a hair stylist @ John Barrett FRIED my hair with bleach then lied2 Intouchtwitpic.com/ci494c

— Amanda Bynes (@AmandaBynes) April 9, 2013
Photos of the actress puffing away come right after the New York Post reported that she was kicked out of an adult gymnastics class at Chelsea Piers after she "showed up in fishnets and a leotard that looked like lingerie."
Sources told the paper, the troubled actress was seen "muttering to herself" and then "burst into tears when she attempted a cartwheel and her dark-colored wig fell off."
Bynes later took to Twitter to deny the allegation, writing that she plans on suing "every blog saying I was kicked out of gymnastics. What is wrong w/ u people? What would u do if u found fake stories about u?"
The actress has exhibited alarming behavior for some time, which includes getting busted for DUI, dropping her rep, lawyer and agent, getting her cheeks pierced, and walking around Times Square with a shirt on her head. Bynes' tweets have also been cause for concern, as she recently tweeted "I want @Drake to murder my vagina," and she admitted to having an eating disorder, which didn't exactly come as a surprise given that she told Us Weekly her goal was to weigh 100 pounds.
"I have an eating disorder so I have a hard time staying thin," she tweeted last week, adding: "I'm suing certain blogs and magazines saying I have a mental illness! They take pictures anytime I've gained weight then write a fake story!"
All of this is quite worrisome, especially since a friend of Bynes recently told RadarOnline that the actress was "blissfully unaware" of her erratic behavior.
"Amanda has absolutely no idea about the reputation she's getting for all of her weird behavior," the source told the website. "In fact, when she got her DUI and those hit-and-run allegations all she talked about was the publicity she was finally getting!"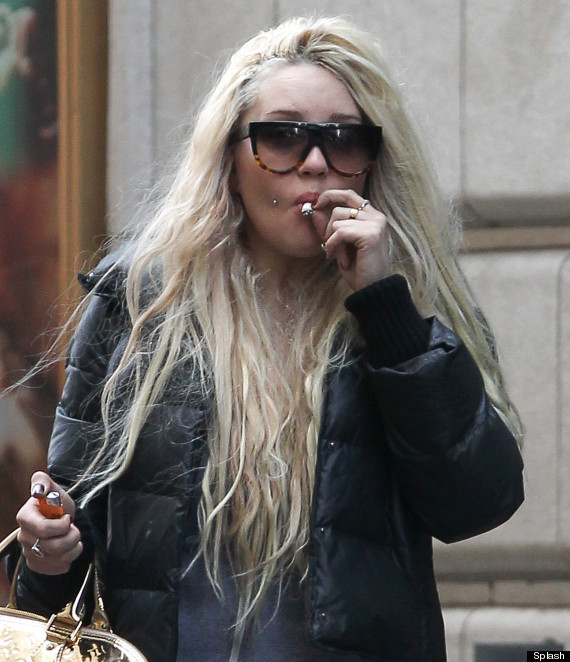 BEFORE YOU GO
PHOTO GALLERY
Amanda Bynes Through the Years