Social news site Reddit is generally known as a space where netizens have the ability to speak their mind in an open and anonymous community. But this weekend, one Redditor may have taken this attitude to another level by using the popular "Confession Bear" meme to allegedly confess to murder.
On Saturday, a Redditor with the username "Naratto" posted a "Confession Bear" meme to the r/AdviceAnimals thread. While the meme is generally used for more lighthearted "confessions," Naratto's version had a decidedly different tone.
Using the title "Finally have the guts to say it" for the post, the meme stated: "My sister had an abusive meth addict boyfriend. I killed him with his own drugs while he was unconscious and they ruled it an overdose."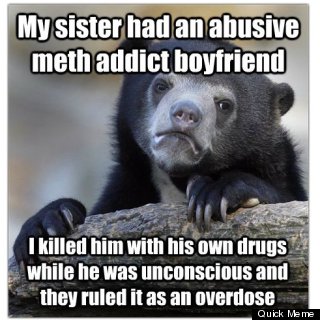 The inherently skeptical hive mind of the site began digging, and since Naratto was apparently using his actual Reddit account, users soon said they had discovered a trove of personal details about the user, Uproxx notes. (The details were quickly deleted, since posting personal information is against the rules of Reddit and is subject to deletion by moderators.)
As attention to the thread increased, Naratto attempted to backtrack, reports the Daily Dot, which managed to get a screenshot of the user's "apology" before the account was deleted.
"I posted this wondering what would happen, there is SOME truth behind it, but I'm not saying what was true and what wasn't," the user said. " If I had a dollar for every time someone took me seriously on the internet, I would be able to retire from today alone."
Naratto also called out the Redditors who had posted his personal information -- a move he called "rude" and "uncalled for."
Redditors have used the site's forums to come clean about potential crimes in the past, most notably with the r/AskReddit from 2012 that called on Redditors to share why they had raped women. Then, like now, people debated whether or not to alert authorities. News agency RT reports that at least one Redditor alerted the FBI to Naratto's post.
In a previous interview about the "Reddit Rapists" thread, private investigator Harold Copus, a retired FBI agent, told The Huffington Post that while the Internet is certainly becoming an important law enforcement tool, finding criminals on a site like Reddit can be complicated.
"What you have to look at here is how you take [the conversation] to the next step, to bring it to that conclusion of a prosecution, and somebody going to jail," Copus said at the time. "And I think that would be very difficult."
BEFORE YOU GO