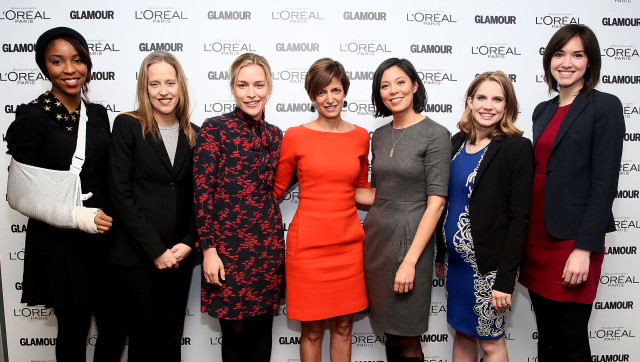 Whether it's building robots or helping to open the first all-female Internet café in Afghanistan, Glamour's 2013 Top 10 College Women are the kind of girls that would make Beyoncé proud. Last week, the talented young women were recognized by the iconic magazine for their outstanding achievements and goals at Barnard College in New York City.
In addition to the awards ceremony hosted by Editor-in-Chief Cindi Leive, a panel discussion took place examining the topic of "How to Build Your Personal Brand and Land Your Dream Job." Moderated by MSNBC's Alex Wagner, Chief Digital Officer for the City of New York Rachel Sterne Haot, the panelists included "Veep" actress Anna Chlumsky, Teach For America founder Wendy Kopp, "Covert Affairs" star Piper Perabo and the hilarious "Daily Show" correspondent Jessica Williams.
These empowering ladies spilled their secrets to success and shared some of the best lessons they learned along the way. Check out the seven most inspiring pieces of advice we took away from the panel -- and prepare to feel ready to take on the world.
1. Take a risk.
Before she snagged the leading role in the hit USA show "Covert Affairs,"
Piper Perabo got her big break when she crashed her boyfriend's audition. While waiting for him, a casting director approached her and said, "You look like one of the parts." She asked Perabo if she could be ready to audition in 10 minutes. Perabo grabbed her boyfriend, went into a stairwell and quickly learned her lines. Although she didn't nab the part that day, she did find a manager, proving that sometimes taking a leap of faith is worth it.
For Grace Young, a budding engineer and award recipient, she lives by Yahoo! CEO Marissa Mayer's mantra: "Do something that you're not ready to do. Worst case, you'll discover your limitations." Young said, "That advice that I read has really encouraged me to do a lot of the things that I thought I'd never have the courage to do, like drop out of high school to go to MIT or work alone in Geneva one summer programming." Next on Young's list? Running a marathon in May.
2. Don't take things personally.
As an actor, rejection can become an all too familiar feeling -- but that doesn't mean you're not good at what you do. Anna Chlumsky said, "You could be a great actor, but not right for the role." She recalled a time where she went to an audition and wasn't sure if she wanted to work with the director. "I'm auditioning them as much as they're auditioning for me. Not every project is going to be exactly right." In the meantime, try not to sweat the small stuff -- better opportunities will come along.
3. You only need one "yes."
For Wendy Kopp, founder of Teach For America, the idea of recruiting recent college graduates to teach in low-income areas across the country came in the form of her senior thesis proposal at Princeton University. "I was obsessed with this idea. I was convinced that this had to happen," Kopp said. The problem was finding someone to fund it. After drafting dozens of letters to CEOs, Mobil Corporation agreed to give her $26,000 as a seed grant towards Teach For America.
"I tell people all the time. there are lots and lots of 'no's,'" said Kopp. "Keep on asking. You only need one or two 'yeses.' It's just about the search for allies."
4. Believe in yourself.
Even at a young age, Jessica Williams always knew she wanted to be a comedian. She convinced her parents to let her go to Upright Citizens Brigade Theatre if she took part-time classes. Throughout college, she balanced doing schoolwork, commuting to L.A. to take Citizens classes and then trying to be seen by as many people as possible. Williams was on the quad meeting her best friend at Panda Express when she got a call from her manager to audition for "The Daily Show." Wearing a T.J. Maxx suit for her big day, she left knowing she got the gig. "I walked into the audition and I could feel that they weren't trying to intimidate me. I knew I got it when I left. I knew it was mine." Lesson learned: Hard work pays off.
5. Own it.
Confidence is key in getting what you want. Perabo shared the story of being on the set on her second movie with the legendary Robert DeNiro and how his words inspired her. "We'd have coffee and talk and stuff. I was like, 'I'm so nervous,'" remembered Parabo. "And he [DeNiro] said, 'I love auditioning. When I would go in, this is my 10 minutes to show them. If I was gonna do it, this is what you'd get.' It was a revelation."
6. It's OK to fail.
Even when we're excited about something, we all know that little voice that pops up in our head and asks, "WHAT are you doing?" Williams says, "Acknowledge that voice, but do it anyway."
"Don't take 'no' as an answer. You're going to fail. Failing is very natural, and it's all part of getting a decent job," Williams said. "Don't stop doing it. If you work hard and you're really nice to people, it'll happen."
As you make your way to the top, Williams advises to remember to appreciate those who have helped you along the way. "I try to thank people and look them in the eye and remember who helped me," said Williams. "It is making sure that it's clear because no matter what, people aren't going to like you. You just have to know that you are true to yourself. You have to know what you are and what that means to you."
7. Trust yourself.
"Trust yourself. I remember as a teen, you worry about everything. 'My hair doesn't look right' and 'I wish I had that thing.'" remembered Perabo. "Or 'he didn't talk to me, maybe he doesn't like me.' Or 'if I fail this class, my grade point average is gonna be this' and you're worried about all this crazy sh*t. Trust yourself that you are doing the right thing to become who you want to be. And keep listening to your own inner-voice about who you are and what you feel and try and make decisions from that place. Teenagers worry so much and it's all OK. You can take a deep breath. I didn't know that then, and I was so worried."
Say it with us: Inhale. Exhale. You've got this.