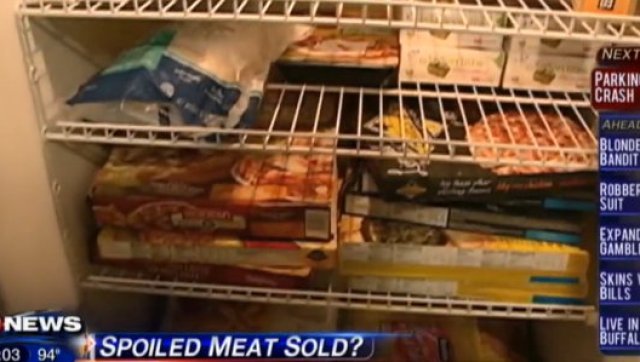 A Monrovia man pleaded guilty Tuesday to selling unsafe meat at his discount food store in Front Royal, Va.
Rodney Cole Sparks, 54, received a suspended jail sentence after pleading guilty to 10 misdemeanor counts of offering adulterated meat for sale, said Warren County Commonwealth's Attorney Brian M. Madden.
Sparks was originally charged with 10 felony charges for selling the outdated meat and faced a maximum of five years in prison on each charge.
Inspectors with the state Department of Agriculture's Office of Meat and Poultry Services filed criminal charges against Sparks after uncovering "freezer-burned, putrid, decomposed" meat at the store, Rodney's Discount Foods.
The meat packages for sale in Sparks' store came from Food Lion stores in Berryville, Va., and Charles Town, W.Va. Employees at the Food Lion in Berryville said they knew Sparks to be a "Dumpster diver" who frequented the store, according to court records.--
According to the terms of the plea agreement, Sparks was sentenced to six months in jail and a $250 fine on each charge. All of the jail time was suspended and all but $1,000 of the fine was also suspended, Madden said.
Sparks must complete a two-year unsupervised probation sentence. As a condition of probation, he must comply with all regulations mandated by the Virginia Department of Agriculture, Madden said.
"We hope that Mr. Sparks will comply with the law," Madden said.
If he is found to violate the law during the probation, Sparks must voluntarily turn in his business license, Madden said.
"He denies selling any adulterated meat," said Bradley G. Pollack, Sparks' defense attorney.
Pollack said they agreed to the plea deal because they believed Sparks would be found guilty if Food Lion employees testified that they did not give the meat products to Sparks.
"It was all basically given to him and he would give the employees a token thank-you gift, because otherwise it all would have gone to waste," Pollack said. "The problem Rodney was facing was that the employees were going to deny they ever gave him meat. The judge and the jury would then believe he got the food from the Dumpster."
If that happened, Pollack said, Sparks ran the risk of being convicted on the felony charges because proving that the meat was improperly stored was enough for a guilty finding.
He believes Sparks will do well on probation and in the future, Pollack said.
"This is a good man who is in the business of selling outdated food," Pollack said. "And he does it for cheap -- to people who are hungry. He does a tremendous community service."
Elaine Lindholm, director of communications for the Department of Agriculture and Consumer Services, said the department conducts routine, surprise inspections and inspections stemming from complaints. She said each business is inspected on a regular basis and the department focuses on businesses that create a greater risk, such as meat or seafood stores.
Lindholm said it is not against the law to sell most products beyond their marked expiration dates. The exceptions are Grade A dairy products and infant formula, she said. ___