"Real Housewives of Beverly Hills" cast member Brandi Glanville posted a horrifying photo of herself with a severely burned face to Twitter and later deleted it.
The 40-year-old former model underwent laser treatment to treat Melasma, a discoloration of the skin -- but it left her with a bright-red burned face.
"Doctor said he could get rid of my melasma. It was [too] hard for my skin, Still healing, its been depressing #skinobsessed," she wrote in a tweet that she later deleted.
Glanville was spotted without makeup on Tuesday while walking around with her two sons, and while her face appeared to be red, it didn't look nearly as painful as in the photo she posted.
It's not clear if the reality star underwent a botched beauty treatment, or if her skin was simply too sensitive to endure it. Glanville is no stranger to cosmetic procedures, as she's admitted to getting Botox and fillers in her face, as well as breast implants, and a $12,000 vagina rejuvenation surgery -- on her ex-husband Eddie Cibrian's dime, no less.
The photo of her burnt face comes after she shared a photo of extremely red hands on Twitter last month, and explained why she had been spotted in public wearing gloves:
"[The] reason I wore gloves is my hands got burned, so I tried to match the outfit to them," she wrote on Twitter, along with the photo, which has also since been deleted.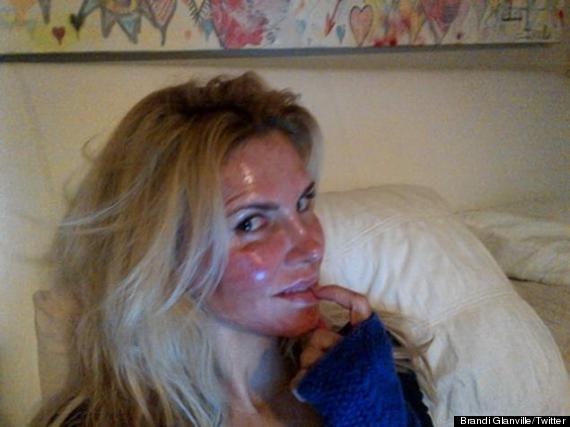 BEFORE YOU GO
PHOTO GALLERY
Celebrity Twitter TMI