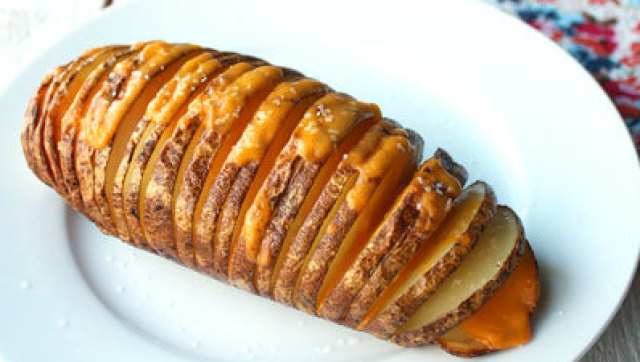 We regret to inform you that we have not been eating nearly enough Hasselback potatoes. These accordion-fanned spuds were named for the Stockholm restaurant that first served them (thank you Restaurant Hasselbacken!), and have slyly fluttered into our hearts with their pockets of butter and occasional cheese. While these potatoes look insanely intricate, they are actually only a small amount more work than your average baked potato. All you need is a sharp knife and a little patience.
Each Hasselback potato recipe starts the same way, by scoring your potato (whether large, small, sweet, purple, whatever) with thin slices, 3/4 of the way through the potato. Many recipes recommend setting a wooden spoon right next to your potato, as it will keep your knife from cutting all the way through. Then, after fanning the slices out gently, you dot with butter, sometimes cheese, herbs, or whatever else your imagination dictates, then pop them in the oven to roast. What emerges is a bit of a cooking miracle -- LOTS of crispy edges, soft interior, toppings in every bite. Our only concern is that we haven't made more of these in our lifetime. If you'll excuse us, we have some Hasselbacking to accomplish.
Want to read more from HuffPost Taste? Follow us on Twitter, Facebook, Pinterest and Tumblr.
PHOTO GALLERY
Hasselback Potato Recipes
BEFORE YOU GO