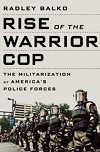 Note: The "Raid of the Day" features accounts of police raids I've found, researched, and reported while writing my forthcoming book Rise of the Warrior Cop: The Militarization of America's Police Forces. It's due out in July, but you can pre-order it here.
On July 9, 1997, a team of NYPD cops conducted a 6 a.m. no-knock raid at the East Harlem home of Atlee Swanson.
The police broke into Swanson's home, then demanded to know where "Joey, Jason, and Sean" were. Swanson said she knew no one by those names. The officers refused to show Swanson a search warrant, handcuffed her, and told her she faced 7 to 15 years in prison for selling drugs from her home. She was then put in a holding cell for 31 hours.
When Swanson finally returned home, she said her apartment was "trashed and vandalized." Three years later, Swanson received a copy of the search warrant in the mail. Only then was she informed that the cops had mistakenly entered the wrong apartment building.
Source: C. Virginia Fields, "Report and Recommend- ations on the Execution of No-Knock Warrants: In the Aftermath of the Death of Alberta Spruill," Office of the Manhattan Borough President, June 2003.