The man found dead in the Tidal Basin has been identified as missing software engineer Sarath Kumar Potharaju, reports WUSA9.
WASHINGTON -- The second body in one week found in D.C. waterways has been unofficially identified, according to WJLA.
The body of an adult male was discovered at 1 a.m. on Thursday, in the Tidal Basin near the Franklin D. Roosevelt Memorial.
Investigators think they've identified the body as a tourist who disappeared over Easter weekend.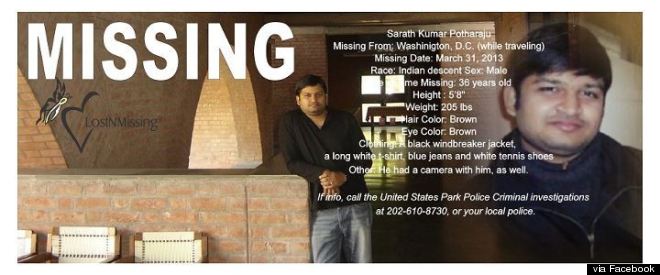 D.C. police said that the body will require an autopsy in the morning to determine the cause of death. They also cannot determine at this time whether there is any indication that this was a suicide or a result of foul play.

The family of missing tourist Sarath Potharaju came to the area Thursday to determine if the body is that of the 35-year-old software consultant.

Potharaju is from India and has been living in Chicago for the past seven years. He was last seen on Easter touring with family members. He was separated from his cousins around 4:30 p.m. Sunday.
Fishermen found the body of D.C. resident Robert Groshan last Saturday morning in the Potomac River south of the Lincoln Memorial, about a half mile from Thursday's discovery.
The Washington Post reports that Groshan's cause of death is still under investigation.
BEFORE YOU GO
PHOTO GALLERY
Missing Children