Detroit development is back, and not just renovations of landmark historic buildings like Broderick Tower and the David Whitney.
Wayne State University, a major landowner in Midtown, has released a request for proposals (RFP) to develop a brand-new mixed-use residential and retail apartment building, the second phase of its South University Village District.
The first phase, Studio One Apartments on Woodward Avenue and Canfield Street in Midtown, was completed in 2008. That year, it was heralded as the local development of the year by Crain's Detroit Business. According to Model D, it was the first new build market-rate rental apartment building to be constructed in Detroit in 30 years. As part of the university's master plan, WSU hoped to continue development on the university's south edge of campus, in the heart of the Midtown/Cass Corridor neighborhood.
"Certainly, this has always been part of the plan," said Ned Staebler, Wayne State's vice president of economic development, who came to the university from the Michigan Economic Development Corporation in 2011. "Studio One was the first phase of the plan. Unfortunately, given the climate, what it was in 2008 and 2009, there wasn't much appetite from the private market to be really receptive."
Many plans for renovations and new builds alike were stymied in Detroit following the recession. Banks weren't lending money as easily, and restrictions on historic preservation tax credits have made renovations difficult for developers.
But with Midtown boasting of residential occupancy rates north of 95 percent over the last year, development is once again in full swing -- with many of the biggest projects in this neighborhood over the past five years being new builds. In 2011, developers opened the $10.5 million Union at Midtown project, which brought 81 new units, all featuring free flat-screen TVs and granite countertops, to the corner of Warren and Cass Avenue. Just a few blocks south on Cass, the $12 million Auburn project, a new build that opened in October 2012, has leased all 58 of its apartments and opened first-floor independent retail.
"Clearly, there's demand," Staebler told The Huffington Post. "We're basically at full occupancy in Midtown. Our goal is to be increasing the density in the neighborhood. It's good for the developers, because it will fill up, and good for the neighborhood, too, the mix of residential and commercial space."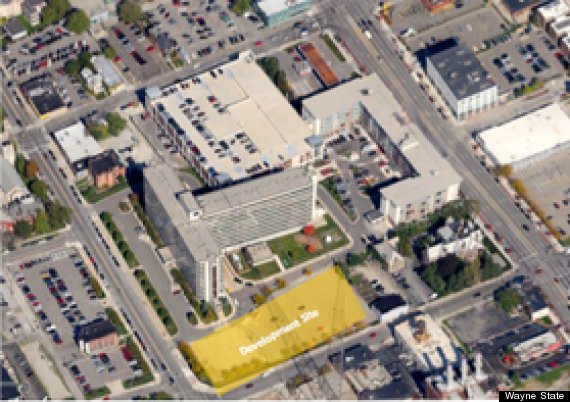 The RFP calls for designs of a four- to seven-story residential apartment building that would be situated on a current surface parking lot owned by Wayne State on Canfield between Cass and Woodward. It's noted in the proposal as the last empty land parcel available within the entire block. Wayne State will sign a long-term lease with the winning developer, who must present proof of available financial resources and a plan to market the project. Staebler estimates that the project may cost between $17 million and $25 million, he told The Huffington Post.
Much like the Auburn, Wayne State is calling for a development that boasts energy-efficient features, bike storage and common spaces for resident in a pedestrian-friendly setting. It must also provide some parking for residents, with additional spaces made available by a WSU parking facility on Forest Avenue.
These higher-end apartments wouldn't be geared toward undergraduates, but to local employees, professionals and graduate students, whom have snatched up rental opportunities priced around $1,000 per month in the last year. In addition to housing, the RFP asks for first-floor retail, around 6,000 square feet of conference space, a catering kitchen for Wayne State to use for events and meetings, limited office space for the university's use and "boutique hotel spaces" for visiting guests and dignitaries.
Staebler said WSU has seen an unprecedented amount of developer interest in the property in recent weeks.

"Every development that gets done raises rents a little bit. It makes lenders more confident. Studio One, the Auburn and this one," Staebler said, "it makes developers more confident that the building will fill out. Each [new project] will be easier than the last one."
Some have complained that the modern designs of buildings like Studio One and the Ellington (located at Mack Avenue and Woodward) don't fit in with the area's historical vibe.
Staebler said Wayne State has learned from its past collaborations with developers, although he specified that he is not at all displeased with any of the recent residential builds that have gone up in Midtown. The RFP calls for the new build to "reflect quality, excellence and creativity in architecture" and be designed in a way that "provides for both visual interest and coherence between surrounding buildings."
"The first time you do anything, you learn some things. We'll make different mistakes this time around," he said. "You also have to expect, with any development, you get a rendering. But between that rendering and the construction, things change and compromises are made here and there."
He said the university planned to stay engaged and adamant in terms of the project's design criteria and appearance.
"We're going to make sure that we're comfortable with the decisions made when those inevitable compromises occur."
Developers interested in submitting plans for the project need to attend a mandatory meeting on May 1 at University Towers at 4500 Cass Ave. in Midtown. See here for more information on the RFP.