An Illinois state representative is under fire after he compared legal same-sex marriage to laws allowing for polygamy or marriages between adults and minors in an e-mail response to a constituent.
State Rep. Tom Morrison, a Republican representing suburban Palatine, wrote early Wednesday in the e-mail obtained by HuffPost that "if you are for the re-definition of marriage to remove the gender distinction of one male and one female, then where would you draw the line?"
Morrison went on to write that he feared legal same-sex marriage in Illinois could lead to legal polygamy or marriages between a man and "a consenting 9-year-old girl" -- statutory rape.
(Read the e-mail below.)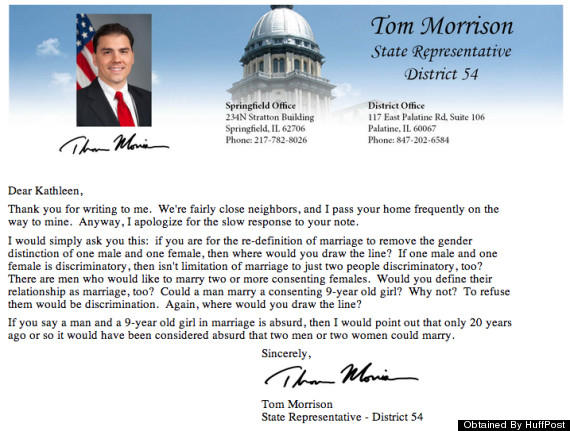 When asked about the message by the Capitol Fax's Rich Miller on Friday morning, Morrison said, "I don't hate anybody" and that he hoped to participate in a "healthy debate" on the marriage bill on the House floor. But he did not back down from the claims of his e-mail, saying "I think that's the kind of dialogue I want to have with my constituents" while adding that he has apologizes to the constituent.
Morrison also shared a longer followup e-mail he sent to the constituent with the Capitol Fax in which he wrote that his response was sent "in haste" and that "I do not equate same sex marriage with statutory rape."
Morrison has been outspoken in his opposition to marriage equality in the past, as he was a leading sponsor of a "Defense of Marriage" resolution filed last year in an attempt to reaffirm the state's ban on same-sex marriage.
The lawmaker also appears to have compared same-sex marriage to polygamy in a previous e-mail exchange with a constituent. According to the Daily Kos blog, Morrison wrote in a message last month, "Once marriage is re-defined away from one man and one woman, then there's no arrangement that could be excluded without being labeled 'discrimination.'"
Meanwhile, Democratic Gov. Pat Quinn said Monday in Chicago that supporters of marriage equality are "very close" to the votes they need for a successful vote on the House floor. According to the Windy City Times, proponents of the bill said a vote could come any day now.
Support for the bill appears to be bipartisan, though still mostly Democratic. On the heels of U.S. Senator Mark Kirk (R-Ill.) saying he supports marriage equality, two Republican state representatives said they will vote in favor of the bill when it comes up for vote.
The Illinois state Senate has already OKed Senate Bill 10, the marriage equality bill, as has a House committee. If the full House approves it, the measure would then head to Gov. Quinn, who has vowed to sign it.
BEFORE YOU GO
PHOTO GALLERY
Dumbest Anti-Queer Statements