Keri Russell flaunts her incredibly fit figure on the cover of Women's Health magazine's May issue, proving to moms everywhere that you can look ab-tastic after giving birth to two kids.
Donning a blue bra-top and tiny white True Religion cut off shorts, the 37-year-old "Americans" star shows off her toned tummy and candidly reveals how easy it was to get it.
SCROLL FOR PHOTO
"One thing you would be surprised to learn about me [is] that I eat everything," Russell admits. "I am crazy for dessert. I eat everything."
"No one should be denied anything," she continues, "You should be able to have a little bit of everything, just don't eat the whole thing."
The former "Felicity" star -- who has two kids, son River, 5, and daughter Willa, 1, with hubby Shane Deary -- also confesses that she's not a fan of hardcore workouts, but believes long walks do the trick.
"Everyone should dance more. Everyone should walk more," Russell explains. "I mean that's one of the great things about living in Brooklyn and in New York, you get to eat a big rich fatty meal but then you can walk home."
Still, despite her exercise routine (and insane abs), Russell reveals she's finding it hard to keep her behind as perky as she'd like.
"I used to have a really good, plump butt. Ugh -- now my butt's gone," she shared. "I do wish I had my 25-year-old butt!"
Check out Keri's amazing Women's Health cover below: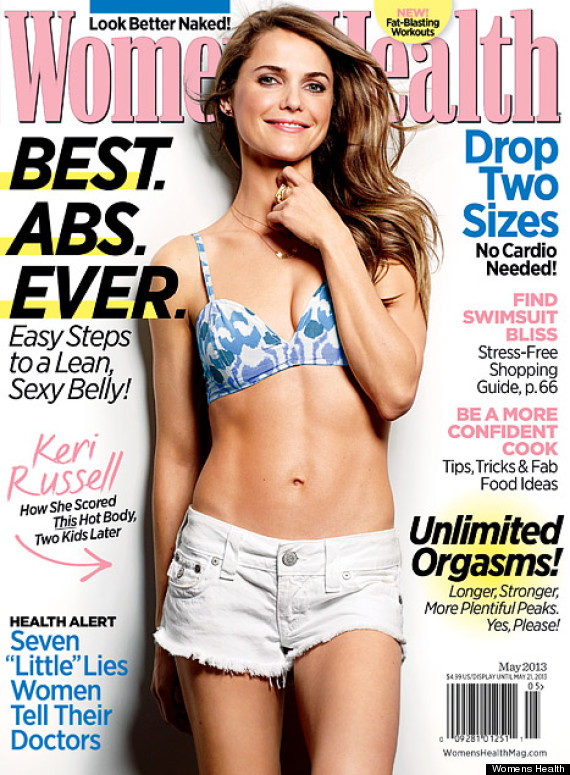 BEFORE YOU GO
PHOTO GALLERY
Celebrity Bikini Bodies