A striking new series of PSAs produced by the organization Moms Demand Action for Gun Sense in America seeks to illustrate what the organization's founder calls "the absurdity of our country's current lax laws and weak regulation of guns."
The first ad, released today, contrasts Trina Schart Hyman's illustrated version of Little Red Riding Hood with an assault weapon, asking viewers to guess which has been banned in the name of children's safety. Two school districts in California, Culver City and Empire, banned that version of Little Red Riding Hood in 1990 because its protagonist brings her grandmother a bottle of wine.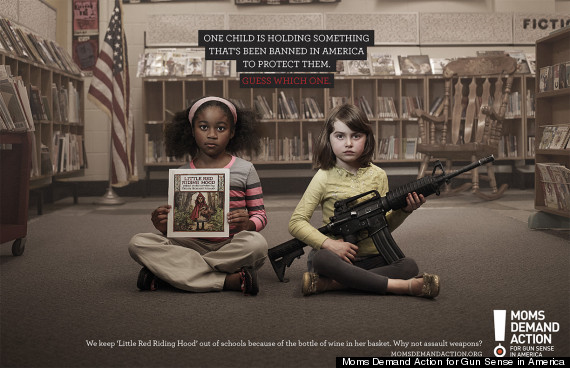 Later this week, the organization will formally launch two more PSAs that take a similar approach. One of them compares assault weapons to dodgeball -- which was recently banned in a New Hampshire school district due to concerns over violence and bullying and is not considered an "appropriate" P.E. activity by the National Association For Sport and Physical Education. The other features Kinder Surprise eggs, chocolate candies with toys inside that are banned under the Food, Drug and Cosmetic Act of 1938 and by the Consumer Products Safety Commission.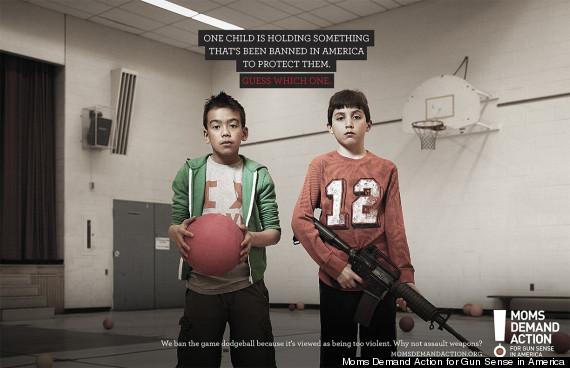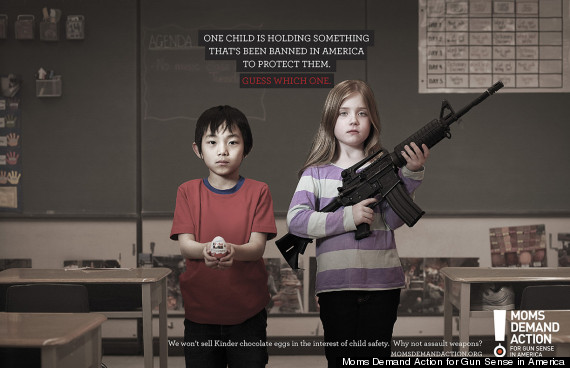 The ads, part of a campaign called "Choose One," were designed by GREY advertising agency.
In a press release, the organization (formerly One Million Moms for Gun Control) also announced that founder Shannon Watts would join Vice President Joe Biden on a Monday afternoon conference call about gun safety that is open to the American public. All week long, a series of "Stroller Jam" demonstrations are set to take place at senators' offices across the country, including one in front of the Capitol Building in Washington, D.C., on Wednesday that will be followed by planned meetings in the Senate.
Over email, Watts told HuffPost Parents: "We wanted our ads to reflect the absurdity of our country's current lax laws and weak regulation of guns. This is not the time to be pragmatic -- after the Sandy Hook Elementary tragedy, it's time to sound the alarm."
In a HuffPost blog earlier this year, Watts wrote:
The morning after the tragedy at Sandy Hook Elementary School, I founded One Million Moms for Gun Control. ... Much like Mothers Against Drunk Driving (MADD) was started to address the deadly dangers of driving while intoxicated through public education programs and lobbying for stricter state and federal regulations, One Million Moms for Gun Control was born to fight for common sense gun control regulations.
She went on to explain that her organization was not advocating for "a ban on guns," but rather sought "middle-ground solutions" such as required background checks and a ban on assault weapons and magazines of more than 10 rounds.
BEFORE YOU GO
PHOTO GALLERY
Weird Things Banned At Schools