LOS ANGELES -- "I was staying a few blocks from the explosion, but didn't hear it," wrote Daniel Brinkenhoff, a 29-year-old runner, to The Huffington Post. "I saw all the cop cars and ambulances streaming down huntington ave and you could smell the smoke in the air. Crazy. Pray that not too many people were injured."
Brinkenhoff, who had flown in from Los Angeles for the race, was already back at his friend's home across from the Prudential Mall in Boston when someone texted him the news about the explosion. By the time he was corresponding with HuffPost, he was on the Acela Train to New York City and noted that he wasn't getting service on his Verizon phone.
He was just one of hundreds of Angelenos who had traveled across the country to participate in the historic Boston race and found themselves in the midst of mayhem after two bombs detonated four hours into the marathon.
Like Brinkenhoff, UCLA psychology professor Bruce Chorpita was already safe in his hotel room when he heard the bombs go off, as was his brother who was also running.
"I crossed the finish line at 3:36 and the bomb went off on 4:09," he said to HuffPost on the phone. "My brother went through 15 minutes before the bomb went off, and he had just gotten through the door at the hotel when we heard the blast."
"Of course you think about [the what-ifs] -- I was just there several times today," he continued. "But we were lucky, and some people were not, and I'm thinking more about the people who were not."
The first-time Boston marathoner and father added, "I'm eager to see my kids and wife. I always am when I travel, but now especially so."
As of Monday evening, Chorpita was hunkered down in his room at the Taj Hotel, which is a block and a half away from the finish line. Chorpita explained that authorities locked down the city within a 15 block radius of the explosion scene and that the streets were empty. The hotel had advised guests to remain indoors while authorities continue to clear the area. Chorpita expects to be able to fly back to Los Angeles Tuesday, as he originally planned.
(Story continues below)
PHOTO GALLERY
Boston Marathon Explosion (GRAPHIC PHOTOS)
Back home, Los Angeles County Sheriff Lee Baca expressed his sympathy for the victims and first responders affected by the bombs. Baca is increasing police patrols near places with a lot of foot traffic, like government buildings, shopping centers, sports stadiums and public transit. He also encouraged Angelenos to report anything that "just doesn't look right."
Los Angeles Police Chief Charlie Beck also decided to deploy bomb-squad personnel, including dogs, at sporting events like Monday's game at Dodger Stadium.
"We will be increasing deployment at all scheduled sporting events in the near future," Beck said to The Los Angeles Times. "I've already been in contact with the Dodgers about this."
The tragedy, which so far has claimed two lives and seriously injured dozens of others, has strengthened the resolve of at least one LA runner. Arkady Hagopian estimated that he had just finished the race about 10 to 15 minutes before he heard the first explosion.
"At first we thought that baseball game had fired a cannon, but then we saw the first responders," said Hagopian to HuffPost over the phone. He was about two or three blocks away from the explosion with two other friends who had had run the race with him. Their first instinct was to look for the other members of their group, whom they were able to find after 20 minutes.
"Whoever did this is trying to break people's spirits, but it's not going to happen," he continued. "It only brings people closer." A second-time Boston marathoner, 33-year-old Hagopian added, "I was on the fence, but now it's definite. I will sign up next year."
This story was updated with interviews of LA runners at the Boston Marathon. Check back for more breaking news updates.
04/19/2013 2:30 AM EDT
GLOBE: Bombing Suspect In Custody, Another Remains On The Loose
One marathon suspect has been captured, according to an official with knowledge of the investigation.
Another remains on the loose in Watertown after a firefight with police. Authorities have established a 20-block perimeter as they search for him.
Read more here.
04/19/2013 12:44 AM EDT
Unconfirmed Photo Of Suspect 2 In Boston Marathon Bombing Emerges On Facebook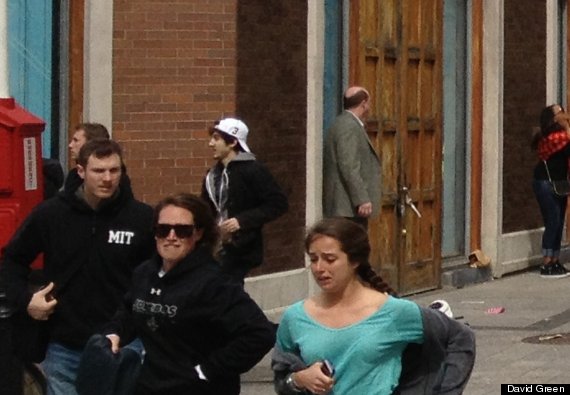 Just hours after the FBI released the first photos of suspects in the Boston Marathon bombing, a new photo of Suspect 2 may have emerged.
David Green, 49, of Jacksonville, Fla., had just completed his first Boston Marathon, when he snapped a picture with his iPhone 4S, taken at 2:50, just after the two blasts ripped through the finish line area, killing three people and injuring more than 180 others.
The FBI has not publicly confirmed this photo as Suspect 2, but Green told the Huffington Post that an agent told him, "this is probably the best we have right now."
The man who appears to be Suspect 2 is wearing a white hat with a "3" on the side as seen in the publicly-released photos.
Read more here.
04/18/2013 10:19 PM EDT
Boston Bombing Victim in Iconic Photo Helped Identify Attackers: Bloomberg
Minutes before the bombs blew up in Boston, Jeff Bauman looked into the eyes of the man who tried to kill him.
Just before 3 p.m. on April 15, Bauman was waiting among the crowd for his girlfriend to cross the finish line at the Boston Marathon. A man wearing a cap, sunglasses and a black jacket over a hooded sweatshirt looked at Jeff, 27, and dropped a bag at his feet, his brother, Chris Bauman, said in an interview.
Read more here.
04/18/2013 9:04 PM EDT
Federal Law Enforcement Says Suspects Stayed To Watch Carnage: CNN Reports
Federal law enforcement official says the 2 suspects stayed at scene to watch the #Boston carnage unfold. on.cnn.com/175CKDq

— CNN Breaking News (@cnnbrk) April 19, 2013
04/18/2013 7:26 PM EDT
Right Wing Journalist Goes Ballistic During Press Conference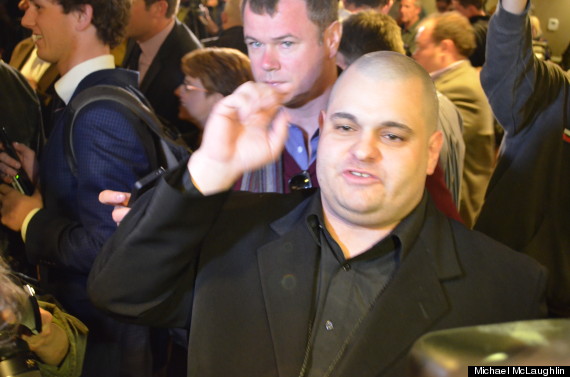 BOSTON -- Moments after the FBI revealed images of two baseball cap-wearing men wanted for questioning about the Boston bombings, the press conference descended into a sideshow.
A journalist from a far-right wing website called Info Wars shouted out a question accusing the government of carrying out the attack that killed three, and maimed or injured 170 others.
FBI Special Agent in Charge Richard Deslauriers ignored the allegation of a government conspiracy from reporter Daniel Bidondi, but the Alex Jones protege did not stop hollering.
"The FBI lies," Bidondi said. "We've got the proof," he said accusing the government of a "false flag" attack in which it staged the blasts and made them appear like the work of terrorists.
Bidondi found himself at the center of an media scrum with cameras and microphones pointed at his face after law enforcement officials left the podium in the Sheraton hotel.
Another reporter ridiculed Bidondi from across the room, telling him to shut up and calling him an asshole.
The excitement quickly dissipated as reporters returned to delivering the news about the official images of the suspects.
Bidondi has been a presence at other press conferences this week related to the bombing investigation.
--Michael McLaughlin / HuffPost Crime
CORRECTION: An earlier version of this story misspelled Bidondi's last name. We regret the error.
04/18/2013 6:46 PM EDT
Facial Recognition Expert Reacts To FBI Photos
Dr. Ralph Gross, a facial recognition expert at Carnegie Mellon University, said the FBI photos of two suspects in the Boston Marathon bombing are likely too grainy to be matched against a driver's license database or Facebook. But he thinks they may be just good enough for someone who knows the individuals to identify them.
"The resolution isn't particularly good. The one that's kind of best is unfortunately a side view -- and in general the face recognition software works best with frontal view," he said.
Research has consistently found, however, that people can spot people they know even in grainy, off-center photographs.
"Humans are actually very good at recognizing people that they are familiar with," Gross said. "Somebody that might know these guys, or might know the way they dress, might certainly be able to recognize them."
The FBI said the men should be considered armed and dangerous, and urged tipsters to call 1-800-CALL-FBI if they believe they have information that could lead to an arrest.
--Matt Sledge
04/18/2013 6:21 PM EDT
Daily News Doctored Photo
The New York Daily News reportedly doctored its front page photograph of the Boston bombings (see update below).
WARNING: LINK GOES TO GRAPHIC PHOTO
04/18/2013 5:37 PM EDT
Hi-Res Image Of People Of Interest

04/18/2013 5:30 PM EDT
FBI Website Down
CNN reports that, because of a flood of traffic, the FBI's site is temporarily down.
HuffPost Readers: If you or anyone you know is in Boston today, we want to hear from you about what's happening there. Send your stories, eyewitness accounts, photos, videos, and anything else you want to share here. Include a phone number if you'd like to be interviewed. Let us know if you want to remain anonymous.
BEFORE YOU GO