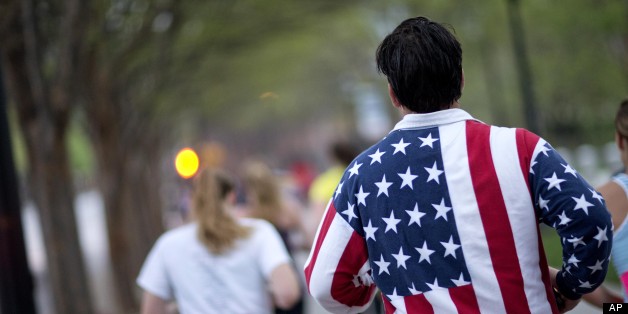 As the investigation of the Boston explosions continues, grim details have continued to emerge -- but so have stories of heroism and compassion, from the first responders who ran toward the blasts to help others to the residents who took in stranded marathoners.
We're collecting these stories -- from small acts of kindness to tremendous displays of valor -- and we'll be updating this page as we hear more of them. If you have something to share, we want to hear from you. Send us your stories, photos, videos, and anything else you want to share here. Include a phone number if you'd like to be interviewed. Let us know if you want to remain anonymous.
If you want to find out what you can do to help, click here.
Some responses have been edited for length and clarity.
04/18/2013 11:27 AM EDT
Boston University Students Collecting Letters
@ projectmailbox :

Want to offer your thanks/support for Marathon victims?Write a letter and drop it in our mailbox at 771 Comm Ave, we'll mail them #mailathon
04/17/2013 6:06 PM EDT
College Students Organizing Fundraisers
HuffPost's Tyler Kingkade reports:
Two days after the bombings, the mood on campus is somber, [Boston College sophomore Corey] Leonardi said, but there's something that is helping: the outpouring of support from students around the Boston area, and indeed, around the country.

"Seeing people off campus support Boston is really comforting to all of us at BC," Leonardi said. "Knowing that we have the whole country behind us is such a great feeling and really allows you to feel the unity in the United States of America. At a college with students from all 50 states, you could really see the personal concerns coming from all across the country."
Read the rest here.
04/17/2013 5:42 PM EDT
Doctors Lauded For Tireless Work
HuffPost's Dominique Mosbergen writes:
One of the heartwarming stories making headlines this week is that of Dr. Peter Fagenholz, a Massachusetts General Hospital trauma surgeon who tirelessly performed surgeries on blast victims through the night on Monday.

"This is work," he told reporters earlier this week, explaining how he was coping with the stress, as well as the volume of critically injured patients. "When this happens, we just go to work."
Read more about Fagenholz and other medical professionals who've been praised for their efforts to help in Boston here.
04/17/2013 5:19 PM EDT
FOUND: Man Who Gave His Medal To Fellow Runner
Earlier, runner Laura Wellington told outlets including HuffPost that a man had given her his marathon medal while she sat crying after the explosion:
The man then asked me if I finished, to which I nodded "no." He then proceeded to take the medal off from around his neck and placed it around mine. He told me, "You are a finisher in my eyes." I was barely able to choke out a "thank you" between my tears. Odds are I will never see this couple again, but I'm reaching out with the slim chance that I will be able to express to them just what this gesture meant to me."
Now, The Toronto Star has identified that man as 46-year-old Brent Cunningham, of Sitka, Alaska.
Cunningham gave an interview to an Alaskan radio station, in which he downplayed the act.
"Many of them were at mile 25, 26 when all of a sudden they couldn't run anymore because of what had happened," he told KCAW. "We were with a gal who was crying. She didn't finish the race, and I just feel so much compassion. I'm embarrassed to tell you this, I mean, I don't want any attention for it, but I just gave her my medal, my race medal. Because I finished and got my medal, and she didn't finish, and she deserved a medal. And so, I just gave her my medal, because, I had to. It was like, I cannot not give it to you, you deserve it. And she just started bawling."
Read the rest of the story here.
04/17/2013 4:21 PM EDT
Boston Residents Step Up To Help Bombing Victims
04/17/2013 12:06 PM EDT
Patient Seeking Good Samaritan Who Saved Her
The Boston Globe's Kay Lazar reports:
One of the 19 patients admitted to Tufts Medical Center after the double bomb blasts at the Boston Marathon Monday is looking for the man who helped her, hospital spokeswoman Brooke Tyson Hynes said at a press conference Tuesday afternoon. The woman "believes he did indeed save her life," Hynes said.

The unidentified patient, who suffered severe injuries to her leg, remembers the man telling her his name was Sergeant Tyler and that he is a former Marine. She remembers seeing a scar on his left arm.

"He told her, 'You're going to have a scar, but you're going to be OK. It'll be like my scar,' " Hynes said.
Read the rest here.
04/17/2013 10:22 AM EDT
'They Stayed. They Didn't Run.'
A woman recalls the view from her hotel room above Copley Square:
To me, the image that sticks out is the yellow jackets.

When I first got to the room and ran to the window, the scene below was still immediate chaos. Runners were literally sprinting through and around the finish area. It was an absolutely frantic scene, clouded over by bomb smoke and punctuated by sirens. But the yellow jackets - they stayed. They didn't run. They tore up the finish line as quickly as they could. They carried runners in their arms and acted as human crutches. I saw runners collapse into their arms and they stood still and held them. They tore down fencing and scaffolding to open the area up to allow people to move more quickly. They were on the ground over broken and injured bodies. They ran back and forth from the medical tent, bringing bags of ice and supplies, pushing empty and full wheelchairs, doing whatever it was that needed to be done.

They too had families to call. They too were in a dangerous and unsecured crime scene. And when they heard the third blast, they STILL stayed.

For me, the enduring image of the Boston Marathon will forever be of the very first responders: the Boston Marathon volunteers, the yellow jackets who stared fear and evil in the eye and vowed that no matter what, they would not run.
04/16/2013 10:20 PM EDT
'I Would Have Cried And Been Lost If Not For Her'
Michelle Day was running her third Boston Marathon, and her first uninjured. After making it to Heartbreak Hill, she stopped in the medical tent to treat her cramping legs and dehydration. Then, determined to finish, she pressed on.
Day writes:
They helped me the best they could, and I said, "I have to go. I have to finish. I want my medal. I have to do it."

They wrapped me in a Mylar blanket and I was on my way limping. I immediately fell in step with two other injured runners. They said, "We're walking it in...Walk with us. Join us," so I did. My tears turned to smiles as the crowd cheered me on. "Go City Sports!" they shouted, because I was wearing a City Sports t-shirt. "You can do it! Stay strong! You're so close."
She was less than half a mile away from the finish line when she heard the booms, followed by sirens. Police told her that the race was over, that she needed to leave the area.
I started walking. I don't know where. Finally I saw a lady entering her apartment. I said, "I don't know where to go. I'm cold. Can I just sit inside your doorway?"

She invited me in. "Come inside," she said. I insisted on sitting on her stairs. She hugged me and treated me like I was her own child. I couldn't climb the stairs so she ran up and down bringing me a drink. A sweatshirt. A blanket. Her phone to make phone calls. Offered me money for a cab or a train.

"Why are you doing this?" I asked.

"Because that's what I do! That's what you're supposed to do when something like this happens! What do you need!? Do you want some tea?"

She was the sweetest, nicest, kindest person I've ever met. I would have frozen if not for her. I would have cried and been lost if not for her. I went back outside and started walking. She had gone upstairs and I never had a chance to thank her.

If I hadn't stopped at that medical tent I would have finished. But who knows what would have happened.

Today, I Googled her and emailed her. She said yes, it was her. I thanked her, said I'd never forget her kindness, and asked how I could return her things to her. She said, just stay strong and keep running, and that's thanks enough for her. She was just glad I emailed her and that I was OK.
04/16/2013 8:15 PM EDT
Twitter Donates Advertising To #OneBoston
04/16/2013 8:09 PM EDT
Good Samaritans Shine In Boston
MNN's Melissa Breyer reports:
Social media did what it does best, spreading the word quickly and connecting those in need with those who could help. Hashtag twitters like #Bostonhelp and #westandtogethe started pinging through the twittersphere. Restaurants became makeshift lounges, offering comfort and free food.

And volunteers across the city opened their doors to dazed strangers – runners, families, spectators – who were stranded when the city was essentially shut down.

...In cities near and far, messages of love and encouragement are being conveyed in support of Boston and all who have been touched by the tragedy. On the exterior face of the Brooklyn Academy of Music, the artist known as The Illuminator projected a series of poignant messages (see video below), reminding us all that, "Darkness cannot drive out darkness, only light can do that."
Read more here.