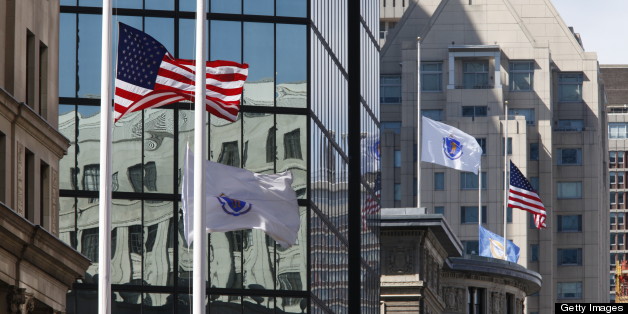 BOSTON -- When Concord resident Jim Pinto answered his wife's phone call from the East Coast Monday afternoon he had no idea why she was so frantic.
His wife, Joan Pinto, had just crossed the finish line of the Boston Marathon with a 4:04:56 time so he figured she'd be happy.
But that was not the case for the 49-year-old Bay Area wife and mother.
"She called me right after she finished. She was pretty upset. I didn't really know what was going on," her 58-year-old husband said Tuesday morning.
So she told him and he turned on the TV and switched the channel to CNN.
Two bombs blew up seconds apart Monday at the finish of one of the world's most storied races, leaving the streets spattered with blood and strewed with broken glass. Three people were killed, including an 8-year-old boy. More than 170 were wounded.
A doctor treating the wounded said one of the victims was maimed by what looked like ball bearings or BBs.
Federal investigators said no one had claimed responsibility for the bombings, which took place on one of the city's biggest civic holidays, Patriot's Day. The blasts raised the specter of another terrorist attack on U.S. soil.
"It was a surprise. I had no clue. She's fine but we were all weeping and a little upset," he said of his family, including his 11-year-old daughter and 13-year-old son.
Pinto said when he spoke to his wife again this morning she spoke about heightened security in the area where she stayed overnight in downtown Boston.
"They had pretty tight security last night and into this morning. She had a hotel curfew," he said.
She boarded a plane in Boston this morning and was slated to land at San Francisco International Airport this afternoon., Pinto said.
To boot, she made her original flight, he said.
"She's actually on a plane headed back with two friends who also ran the race," he said. "I am excited and so are the kids."
The Associated Press contributed to this story. Contact Natalie Neysa Alund at 510-293-2469. Follow her at Twitter.com/nataliealund.
BEFORE YOU GO
PHOTO GALLERY
Boston Marathon Explosion (GRAPHIC PHOTOS)