One of the most gorgeous hotels in South Beach paired with Miami's most beloved chef? Color us thrilled that finally, Michael Schwartz's newest restaurant will open April 22 at the venerable Raleigh Hotel.
The James Beard Award-winning chef, already presiding over Design District haunts Michael's Genuine, Harry's Pizzaria, and The Cypress Room, will officially open Restaurant Michael Schwartz next Monday in the poolside space of the Raleigh's former restaurant, The Royal.
If no one is sad to see the uneven Royal bite the dust, they'll be equally excited to learn Schwartz's new joint will continue serving both lunch and dinner daily, while also providing poolside and bar service, boxed beach lunches, and room service. Lunch starts at noon, but box lunches will be available as early as 11 a.m.
What's on the menu? Schwartz's signature focus on locally sourced fresh ingredients, for starters, in dishes including Crispy Hominy with chili and lime; Harvey Cedar's Fish Stew (a recipe from one of Schwartz's own books); Grilled Octopus with crushed hazelnuts, green olives, kumquat, preserved lemon and parsley; and Steak Tartare with fresh herbs, crispy shallots, quail egg yolk and grilled bread.
The new restaurant is just one of the changes underway at the Raleigh under new owners David Edelstein and Sam Nazarian. Schwartz will also be updating the cocktail menu at the property's legendary cozy Martini Bar, and soon renovations of guest rooms and common areas will be underway.
We're holding our breath over the last part, but the developers promise results will be "reminiscent" of the hotel's iconic Art Deco glory.
BEFORE YOU GO
PHOTO GALLERY
Best Hotel Bars In Miami
11/13/2013 3:38 PM EST
Give a coat, get a drink!
We just found out what we're all doing Thursday night!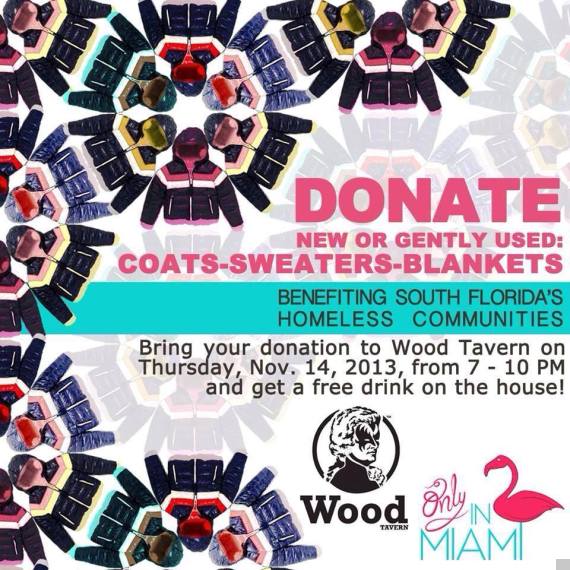 11/13/2013 1:27 PM EST
Made you look!
Nas and Don Omar headlining Soulfrito Urban Latin Music Festival in Miami http://t.co/Gh7OvSyZ9T

— Miami New Times (@MiamiNewTimes) 5 years ago
11/09/2013 12:59 PM EST
Dining With A View Is Back
Perched on the 16th floor of the Epic Hotel with a view of the Miami River, Area 31 is the kind of aerie we love -- the kind that offers stunning views and delectable, locally-inspired fare in equal measure.
And fortunately for downtown diners, after grabbing a few months' beauty rest the restaurent reopened in October with an updated interior and a new executive chef at the helm. Wolfgang Birk, who previously served as the opening executive chef at Casa Casuarina and Cooper Avenue, now heads up a team that includes charming lead bartender Dean Feddaoui and master sommelier Emily Wines.
On Birk's new menu: chilled melon and cucumber soup ($11), greens from Homestead's famed Paradise Farms ($11), fluke topped with caviar ($14), crab cakes ($16), and bone-on ribeye with crisp yucca potato and bone marrow bordelaise ($42). The lobster wonton ravioli ($28) is a winner, as is roasted lamb ($32), but nowhere was Area 31's new direction toward local, farm fresh raw materials more evident than in a perfectly dressed baby beet and fried goat cheese salad with blood orange and marcona almond shavings ($12). It's a positively stunning combination.
Inside, Area 31 is chic yet comfortable, dressed in neutrals to show off floor-to-ceiling windows and a massive wine installation. On the terrace, the dramatic view's the thing. Tucked at a corner table, the cinematic setting is the sort of place people where people have affairs in films. Surrounding towers sprouting across the river in Brickell give the open air terrace a cozy feel, but views up the Miami River and out to Biscayne Bay don't let diners forget there's no other place like this in the city.
When to go: in addition to dinner (6 p.m. - 10 p.m., until 11 p.m. on Fridays and Saturdays), Area 31 is open for lunch from 11:30 a.m. - 3 p.m. with time-friendly fare including a brisket blend burger ($15) and crispy mahi fish taco ($14). The Terrace Lounge features a DJ on Thursday and Friday nights.
11/04/2013 8:42 AM EST
WATCH: Critical Mass does Halloween
What city has more fun than us? That's right.
H/T: Miami Bike Scene
10/22/2013 1:31 PM EDT
Win two VIP tickets to Luckyrice!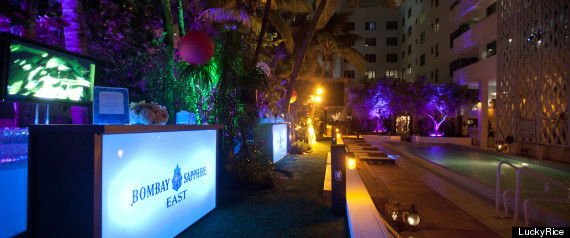 We love you, Miami.
We also love food, more food, and booze.
So we're giving away a pair of VIP tickets to Luckyrice, a one-night-only feast celebrating Asian food and cocktail culture presented by Bombay Sapphire East. The November 15 bash at the gorgeous Raleigh hotel will be co-hosted by Iron Chef Masaharu Morimoto and Miami's own famous foodster, Michael Schwartz.
Why you want these tickets: over 30 local chefs and bar experts from the likes of Bazaar by José Andrés, Khong River House, Juvia, the Setai Grill, and Phuc Yea will be on hand with their tastiest fare, and VIP status not only guarantees early entry for you and a friend but also comes with access to the VIP Chefs Lounge.
To enter, check twitter.com/HuffPostMiami at 2 p.m. and answer our tweeted question to be included in a random drawing.
This contest is open to legal residents of the 50 United States, the District of Columbia and Canada (excluding Quebec) who are 18 and older. Your entry must be made before noon Eastern Time on October 23, 2013. You may enter once. One winner will be selected in a random drawing receive two (2) VIP tickets to Luckyrice Miami valued at $125 each.
10/17/2013 11:18 AM EDT
PHOTOS: Amazing Bob Marley exhibit opens!
Curated by the Grammy museum in Los Angeles, a new Bob Marley exhibit at HistoryMiami presents rarely seen artifacts and photos of the reggae legend. The exhibit includes special programming to highlight Marley's ties and impact on South Florida, where he and his once lived.
"Bob Marley Messenger" runs through January 5.
10/14/2013 10:19 AM EDT
Pop-up drive-in opens in Wynwood!
Friday night, the new Blue Starlite Drive-In had its grand opening in Wynwood with a screening of "Back To The Future," projected from a cherry red A 1950s Chevy truck. The pop-up drive-in can hold 20 to 24 cars and has seats near the front of the viewing area.
For a list of upcoming films, click here.
10/14/2013 8:59 AM EDT
PHOTOS: D-Wade and Nas team up
It was a Saturday night in Miami, so you know Dwyane Wade is somewhere looking fresh -- and naturally, we found him hosting a celebration for The GQ Men Book.
Presented by Hennessy V.S., the swank soiree at the SLS Hotel's Hyde Beach included a performance from Nas that got the whole bar bouncing. Spotted in the crowd: actress Gabrielle Union and Wade's Heat teammate Michael Beasley, rocking some bright yellow pants.
10/11/2013 3:00 PM EDT
Can't wait until SBWFF?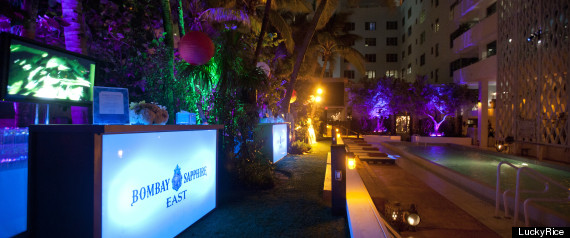 Things are about to get verrrry busy in Miami -- and while we're saving up sleep for the week of Art Basel, the hardest part of anticipation during "the season" is knowing South Beach Wine And Food Festival is on it's way, but we can't taste anything yet!
Fortunately, you won't have to wait to until February for delectable food from Iron Chef Masaharu Morimoto or Miami's own Michael Schwartz. The pair of celebrated chefs are co-hosting Miami's second annual LuckyRice festival, a one-night-only feast celebrating Asian food and cocktail culture, on November 15 at the gorgeous Raleigh hotel.
LuckyRice, which for four years enjoyed sell-out crowds in New York, Los Angeles, and San Francisco, will bring together mixologists and chefs from our very own whirling culinary world. Asian cuisine will meet Latin flavors by the iconic Raleigh pool as 30 local chefs and bar experts from the likes of Khong River House, Juvia, the Setai Grill, and Phuc Yea turn out their best.
As if the event didn't already sound like the perfect marriage, expect to pick out botanical notes from Thai lemongrass and Vietnamese Black Peppercorn as you sip cocktails from presenting sponsor Bombay Sapphire East.
Guests at the stylish soiree are encouraged to wear "firecracker" or "chili pepper red." Tickets are now on sale at luckyrice.com; general admission is $88 and VIP tickets, which come with earlybird access at 7 p.m. and entrance to the VIP Chefs Lounge, are $125.
LuckyRice at the Raleigh Hotel: November 15 from 7 p.m. to 11:30 p.m.; luckyrice.com