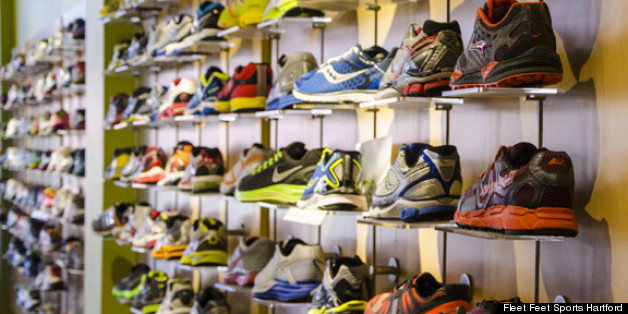 Running shops quickly transformed from retail stores into community hubs in the aftermath of the bombings at the Boston Marathon, which killed three people and injured more than 150 others. Customers stopped by to get news and to mourn, and for some stores the tragedy even translated into a surprising sales spike.
Fleet Feet Sports in Hartford, Conn., a local franchise of the national chain, saw a jump in foot traffic and sales as the news of the bomb blasts was broadcast across media networks Monday, said store owner Stephanie Blozy. There's a large-screen television in the store, and people gathered around to watch the news of the events unfolding -- and to buy shoes.
"The store was full of people and people were there to purchase shoes," said Blozy, who ran the Boston Marathon herself in 2009. "It was hard to give customers service. You were kind of angry at people who wanted to buy at that moment, because you just wanted to be with people."
The rush of foot traffic at running shops around the country on Monday underscores just how closely these stores are aligned with the community of runners. At many shops, buying a pair of socks or shoes is not just a purchase but signal a kind of membership in running groups.
Atlanta-based running shop Phidippides, which has been in business more than three decades, saw sales go up Monday afternoon, and people crowded into the store to express sorrow over the events in Boston.
"We were not really that busy until that started playing out," Kerry Dycus, manager of Phidippides, told The Huffington Post. He said he was surprised by how many people made purchases following the news. "Everyone was coming in and they were very conscious of what happened," he said.
Running stores closer to the marathon, however, saw business grind to a halt after the bomb blasts.
Billy Hartford, owner of the South Boston Running Emporium, said his shop was extremely quiet after the bombs went off downtown -- in stark contrast to the typical post-marathon scene, when he puts out a cooler of beer for runners and spectators.
"After the marathon, there are usually a lot of people waking around and proud, and there is a lot of camaraderie," Hartford said. "There was none of that yesterday -- even for people for who finished -- and there was not a lot to celebrate."
Sales aside, some stores said they planned to use their retail locations this week to provide an outlet for runners to support the city of Boston. Blozy said her Hartford store was organizing a group run on Tuesday night as a vigil for those injured in the blasts and asked participants to wear their favorite race shirts.
Christi Beth Adams, owner of a Fleet Feet franchise located in Nashville, Tenn., ran the marathon in Boston Monday and had crossed the finish line just 15 minutes before the first bomb exploded. For Adams, the attack was terrifying, but she quickly viewed it as an opportunity for her shop to connect with the broader community.
"We are very passionate about giving blood and that is a message we want to take back to Nashville," Adams told HuffPost on Tuesday over the phone, as she headed to the airport to return to Tennessee. "Our running store is a platform where we can push great ideas in our community."
BEFORE YOU GO
PHOTO GALLERY
Boston Marathon Bombings