MySpace is so six years ago, but we can't help but feel a little nostalgic when we came across one country-pop star's (possible) bio written in 2007... before she was world famous.
While we can't be 100 percent certain, a Taylor Swift bio from the social networking site has apparently been unearthed after a T-Swift fan tweeted the following: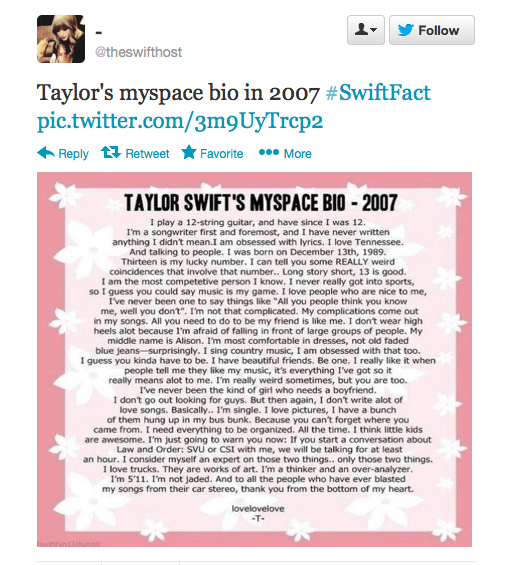 If true, we think the clues in the bio, in addition to this profile written in 2007, gives it away. The bio (in what would have been written by a 17-year-old Swift) states:
I am obsessed with lyrics. I love Tennessee. And talking to people. I was born on December 13th, 1989. Thirteen is my lucky number. I can tell you some REALLY weird coincidences that involved that number.. Long story short, 13 is good. I am the most competitive person I know. I never really got into sports, so I guess you could say that music is my game.
The bio goes on to say: "I'm most comfortable in dresses, not old faded blue jeans -- surprisingly" and "I'm just going to warn you now: If you start a conversation about Law and Order: SVU or CSI with me, we will be talking for at least an hour."
Hmm... sounds like T-Swift to us!
What do you think, Swifties? Is this MySpace bio the real deal? Tell us what you think in the comments below or tweet @HuffPostTeen!