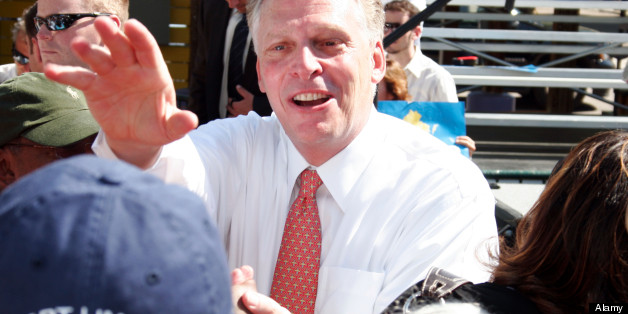 Democrat Terry McAuliffe's gubernatorial campaign claimed that 72 percent of his donations came from Virginia donors.
But only one of his top 15 donors in the year's first quarter listed a Virginia address -- LISCR, Inc., a shipping management company that is located in Virginia, donated $60,000 last quarter.
McAuliffe's top numbers also reflect heavy support from unions, with the American Federation of State, County and Municipal Employees; American Federation of Teachers; International Association of Fire Fighters; and the Communications Workers of America chipping in more than $500,000. Former President Bill Clinton, a best buddy of McAuliffe's, also chipped in $100,000.
McAuliffe also drew support from two prominent best-selling authors with Virginia roots -- John Grisham and David Baldacci, who contributed $25,000 and $10,000 respectively. Boyd Tinsley, the violin player for the Dave Matthews Band, chimed in with a $10,000 donation.
Republican candidate Ken Cuccinelli's camp also claimed 72 percent participation from Virginians.
Seven of Cuccinelli's top 15 donors came from Virginia, but the $2.4 million fundraising total the campaign boasted about Monday overwhelmingly rests on the shoulders of the Republican Governors Association, which dumped $1 million into the attorney general's campaign.
Cuccinelli also gets by with a lot of help from socially and politically conservative out-of-state friends with some headline-making ability.
There's a $25,000 donation from Foster Friess, the Jackson, Wyo., businessman and social conservative who bankrolled former Sen. Rick Santorum's GOP presidential bid last year and famously told MSNBC: that in his day women used "aspirin for contraception. The gals put it between their knees, and it wasn't that costly."
Cuccinelli also got a $25,000 donation from Koch Industries, the politically active Kansas oil, commodities and cattle company that has spent millions funding groups that oppose climate change and espouses conservative causes.
Cuccinelli also received $1,500 in two donations from obstetrician Dr. John W. Seeds, a noted anti-abortion physician appointed by Gov. Bob McDonnell last July to serve on the state Board of Health.
With Seeds' support, the board recently voted to impose new regulations requiring the commonwealth's 20 existing first-trimester abortion clinics to comply with building standards for new hospital construction.
Cuccinelli, who also opposes abortion, drew outrage from abortion-rights advocates last summer when he refused to certify the amended regulations last June passed by the board that would have grandfathered the existing clinics.
jnolan@timesdispatch.com
(804) 649-6061 ___
ALSO ON HUFFPOST:
PHOTO GALLERY
BEFORE YOU GO
United States Governors
PHOTO GALLERY
United States Governors