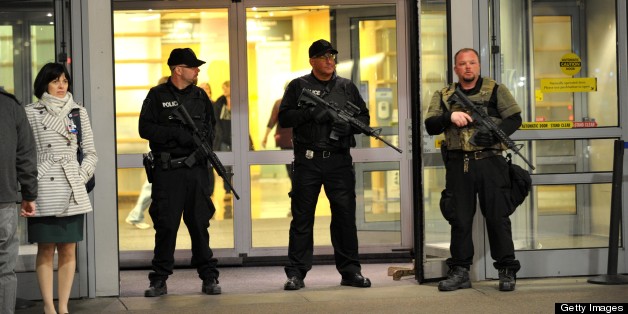 BOSTON -- Officials have been mum about security preparations before the Boston Marathon, and the swift response after the bombings near the race's finish line Monday, instead focusing on who's responsible for the fatal blasts, not how they were able to overcome security at one of the most heavily guarded events in the city.
The Boston Police Department said it's not speaking individually to reporters. The elite road race's organizers at the Boston Athletic Association have not responded to inquiries and the mayor's office said it's unwise to discuss security measures.
"Because the Marathon is a recurring event, and because disclosure of any of those plans would compromise security at future marathons, we contend that these records are exempt from disclosure," a spokesman for Mayor Tom Menino said in an email to HuffPost.
GRAPHIC PHOTOS | Bomb Photos | Bag Or Bomb? | PHOTOS: Vigils Mourn Victims | Remembering 1st Victim, Martin Richard | 2nd Victim, Krystle Campbell | 3rd Victim, Lu Lingzi | Stories Of The Dead And Injured | Both Legs Amputated | 'We Are Saddened And Shattered' | Witness Accounts | How To Help | History Of U.S. Bombings | Bombing Timeline | Prayers For Boston | Media Coverage

With those avenues closed off, one possible guide is the state's Comprehensive Emergency Management Plan, a primer for responding to floods, nuclear meltdowns, blackouts and terrorist attacks.
The document lays out simple-sounding objectives for emergency response, such as: "Obtain and maintain situational awareness of the incident and ensure responders have a common operating picture," and, "Establish a seamless transition into recovery operations."
But don't be fooled by the technical language. The bulky document is the definitive guide to emergency preparation and catastrophe response anywhere in the state, said Massachusetts Emergency Management Agency spokesman Peter Judge.
"It gives out roles and responsibilities," Judge told HuffPost. "There's no specific hurricane plan or whatever. But we deal with the emergencies, whether it's one that we dealt with [Monday] or a bridge collapse."
In the event that normal government functions are interrupted by a natural or man-made disaster, the emergency plan delegates who's responsible for 18 categories of service. The state Department of Public Health is charged with getting medical supplies to victims and the Department of Public Works is responsible for restoring power, for instance.
Essentially, the CEM regulates the chain of command and gives broad job descriptions to dozens of government agencies, private companies and relief organizations.
In the event of terrorism, the plan spells out that the FBI takes the lead while all other federal, state and local law enforcement play a supporting role:
The Federal Bureau of Investigation (FBI) has lead responsibility for criminal investigations of terrorist acts or terrorist threats within the United States. Other Federal agencies with authorities, resources, capabilities, or expertise required to support terrorism-related law enforcement and investigation operations may be requested to participate. Local and state law enforcement agencies will coordinate with the FBI and provide assistance as required. The Commonwealth of Massachusetts has the lead responsibility for protection of public health and safety, restoration of essential government services, and providing emergency relief to governments, businesses, and individuals affected by a terrorist incident.
But before the criminal investigation begins, the Massachusetts State Police is in charge of search and rescue as well as maintaining law and order.
"Extensive property damage will occur following an emergency or major disaster. Many private homes, businesses, major industries, and commercial enterprises will be damaged or destroyed," the CEM says. "Response efforts will create immediate and continuous demand for law enforcement and security services. The demand will eventually exceed the capabilities of the affected local law enforcement agencies."
At this point, it's unclear how closely these guidelines were followed in the midst of Monday's attacks that created the largest crime scene in Boston's history.
Preparations for the marathon at the state level began in January, Judge said, and include more than 100 representatives from the Boston Athletic Association, fire and police departments along the route, in local hospitals and at other government agencies. While the logistics for the marathon remain under wraps, they would have to mesh with the state's emergency management plan.
"Boston's plans would feed into this plan," Judge said. "Boston's marathon is the marathon that all marathons look at from a public safety perspective."
Like so many high-profile events and locations, security for the Boston Marathon is elevated compared to its pre-9/11 levels, Judge said. This year was no different; the police department deployed more officers to the marathon this year than in any other year, according to Commissioner Ed Davis.
Though there's scant information on how authorities train for potential crises, professional security consultants said there must be a playbook for responding to a bombing.
"They plan for a bomb to go off at the Boston Marathon. If they haven't, then they're incredibly lax," said Howard Levinson, a security consultant for corporate clients and special events who frequently coordinates with local authorities. "That probably saved a lot of lives. But unless you're taking such extreme measures, you can't prevent this from happening."
BEFORE YOU GO
PHOTO GALLERY
Boston Marathon Bombings