Laura Wellington, a runner in the Boston Marathon, was half a mile from the finish line when the explosion went off.
In shock near the finish line, she was comforted by a man who gave her his medal for finishing the race - a gesture she said reassured her that "even though such a terrible thing had happened, everything was going to be OK." She posted her story to Facebook in hopes of finding him.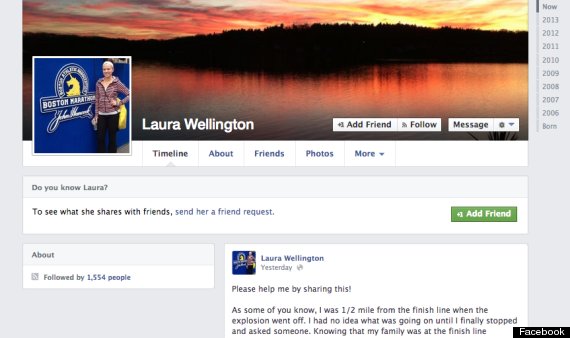 Now, that Good Samaritan has been identified by the Toronto Star as 46-year-old Brent Cunningham, of Sitka, Alaska.
Cunningham didn't know that anyone was looking for him when he and his wife Karin were interviewed by Alaska radio station KCAW.
He told the station that he finished the race about 30 minutes before the bombing. When someone told him what had happened, he initially thought they were joking. Afterwards, as he walked away with his family, he started passing runners who'd been stopped near the end of the race.
"There were all these thousands of runners with their running bibs but none of them were wearing medals because they never finished," Cunningham said in the KCAW interview.
"Many of them were at mile 25, 26 when all of a sudden they couldn't run anymore because of what had happened.. We were with a gal who was crying. She didn't finish the race, and I just feel so much compassion. I'm embarrassed to tell you this, I mean, I don't want any attention for it, but I just gave her my medal, my race medal. Because I finished and got my medal, and she didn't finish, and she deserved a medal. And so, I just gave her my medal, because, I had to. It was like, I cannot not give it to you, you deserve it. And she just started bawling."
Earlier, Wellington told outlets including HuffPost her side of the story, and how much that small act of kindness meant:
"At that moment, a couple walking by stopped. The woman took the space tent off her husband, who had finished the marathon, and wrapped it around me. She asked me if I was okay, if I knew where my family was. I reassured her I knew where they were and I would be ok. The man then asked me if I finished, to which I nodded "no." He then proceeded to take the medal off from around his neck and placed it around mine. He told me, "You are a finisher in my eyes." I was barely able to choke out a "thank you" between my tears.
Odds are I will never see this couple again, but I'm reaching out with the slim chance that I will be able to express to them just what this gesture meant to me."