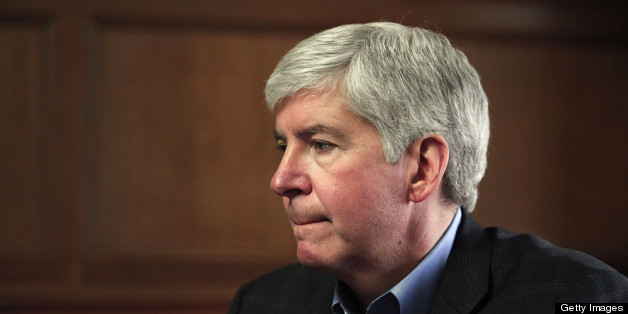 Michigan Gov. Rick Snyder appointed a financial review team Wednesday to look at the books of Hamtramck, a city within Detroit.
The appointment under Public Act 436, commonly known as the emergency manager law, follows the Michigan Department of Treasury's preliminary review of the City, which found a "serious financial condition."
Hamtramck was historically a Polish enclave that now has a particularly ethnically-diverse population. The small city is surrounded by Detroit and has faced similar problems, like unemployment, loss of auto jobs and decreased services.
The review was undertaken at the request of city officials, the state said.
According to a Treasury statement, the review team members are:
Ed Koryzno, administrator, Office of Fiscal Responsibility (State Treasurer's designee). Koryzno was previously city manager of Ypsilanti for more than 15 years.
Doug Ringler, director, Office of Internal Audit Services within the Department of Technology, Management and Budget (DTMB) (DTMB's designee). Ringler is a certified public accountant and certified internal auditor.
Eric Lupher, director of Local Affairs, Citizens Research Council of Michigan (nominee of the Senate Majority Leader). Lupher has worked for the organization since 1987, most recently on "local government matters, including intergovernmental cooperation, governance issues, and municipal finance."
Max Chiddister (nominee of the Speaker of the House of Representatives). Chiddister was formerly the executive director of the Detroit Public Safety Foundation, spent 18 years as vice president of government affairs for J.P. Morgan Chase/Bank One and previously served two terms as mayor of Goshen, Ind.
Frederick Headen, legal advisor for the Michigan Department of Treasury. Headen worked with the Treasury since 1997. Previously he had a position as legal counsel for the Citizens Research Council.
The Department of Treasury pointed to several problems in Hamtramck, according to a statement. State officials don't believe the City's submitted deficit reduction plan is sufficient, or that it adequately addresses structural debt. Current budgets don't comply with laws about deficit spending. They also have not made $2 million of required pension contributions to avoid problems with cash flow.
In 2012, Hamtramck's City Council fired City Manager William Cooper after he issued a warning about impending payless paydays. At the time, a projected budget shortfall of $2 million prompted speculation that Hamtramck might be the subject of a state takeover.
If Snyder does eventually appoint an emergency manager to Hamtramck, it wouldn't be the first time. It was declared to be in a financial emergency under an older law in 2000, and Louis Schimmel, the current EM of Pontiac, Mich. was appointed Hamtramck's emergency financial manager by Gov. John Engler in 2000. According to an online biography, Schimmel served for five years, during which time he "sold unused assets, out sourced services, resolved numerous long standing legal matters and streamlined city government operations."
The review team has 60 days to determine whether a financial emergency exists in the City of Hamtramck, after which they are allowed to request one 30-day extension.
Under the new emergency manager law PA 436, EMs have extraordinary powers, including the ability to revoke collective bargaining contracts, sell off public assets, impose taxes on residents without a vote and discharge elected officials. The law is an updated version of Public Act 4, which was repealed by voters last November. State legislators passed the new version last December and it took effect in March. During the interim period, an older law was in place that allowed the state to appoint officials with more limited powers, known as emergency financial managers.
Last month, the state appointed Kevyn Orr as emergency manager for Detroit after a financial review team found a severe fiscal emergency. Including Detroit, six Michigan municipalities (as well as three school districts) have emergency managers:
View Michigan Cities With Emergency Managers in a larger map
CLARIFICATION: A previous version of this story identified financial review team appointee Max Chiddister as the executive director of the Detroit Public Safety Foundation, as stated in a release from the Michigan Department of Treasury. Chiddister no longer holds the post of executive director as of October 2012, a spokeswoman for the foundation said.
ALSO ON HUFFPOST:
PHOTO GALLERY
BEFORE YOU GO
Where Do Michigan Pols Stand On An Emergency Manager for Detroit?
PHOTO GALLERY
Where Do Michigan Pols Stand On An Emergency Manager for Detroit?