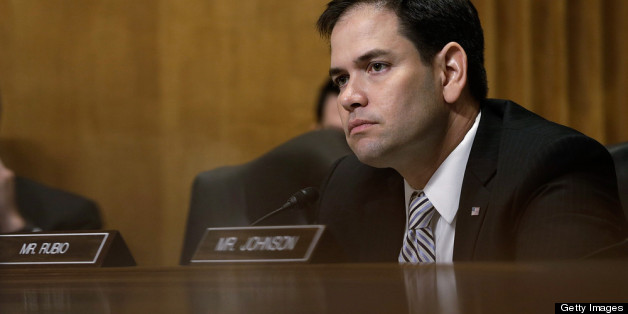 Lots going on up at Capitol Hill today as the Senate debates whether or not it should do what 90 percent of the country wants and improve the gun-sales background check system, the "gang of eight" keeps working to advance their immigration bill, and everyone runs around in a state of anxiety over a bunch of ricin-laced letters that apparently made their way into the offices of various lawmakers. And with constant breaking news reports that something is happening in the investigation into the Boston Marathon bombing, unless it isn't, in which case nothing is happening, the whole day has become a toxic brew of exhaustion and anxiety.
Which is kind of not the ideal environment for a bunch of right-wing blogs to start dredging up nonsense over a sinister plan to give away free cellphones, mirroring the ancient election year grievance over "Obamaphones," but that's what's happened. And now, the office of Sen. Marco Rubio (R-Fla.) has had to take the time to clarify that this is not happening.
Here is the passage of the Border Security, Economic Opportunity, and Immigration Modernization Act that has everyone twitterpated today:
SEC. 1107. ACCESS TO EMERGENCY PERSONNEL. (a) SOUTHWEST BORDER REGION EMERGENCY COMMUNICATIONS GRANTS.—

The Secretary, in consultation with the governors of the States in the Southwest Border region, shall establish a 2-year grant program, to be administered by the Secretary, to improve emergency communications in the Southwest

ELIGIBILITY FOR GRANTS.—An individual is eligible to receive a grant under this subsection if the individual demonstrates that he or she— (A) regularly resides or works in the Southwest Border region; is at greater risk of border violence due to the lack of cellular service at his or her residence or business and his or her proximity to the Southern border. (3) USE OF GRANTS.—Grants awarded under this subsection may be used to purchase satellite telephone communications systems and service that— (A) can provide access to 9–1–1 service; and (B) are equipped with global positioning
That's led to two strains of outrage. The first of which we'll call the "Immigrants Are Getting Free Marcophones" scenario. Per the Shark Tank blog:
With the new 'Border Security, Economic Opportunity, and Immigration Modernization Act' finally being filed in the U.S. Senate, concerns over how much money the immigration reform bill will cost an already debt-ridden United States continues to swirl among Americans who are already strapped for cash.

According to the newly filed bill, immigrants who are allowed to enter the United States under a work visa, will be 'granted' a taxpayer funded cellular phone. Move over "Obama phone," we present the new 'Hola, Como Estas?!' MarcoPhone.
A slightly more earthbound take from Breitbart News is the "Immigration Reform Bill Provides Phone Giveaways And Perhaps This Will Benefit A Company In Rubio's District" situation:
The 844-page immigration reform bill the bipartisan "Gang of Eight" dropped in the dead of night contains a lucrative handout that would give taxpayer-funded free cellphones to some people who live or work near the U.S. border with Mexico.

[...]

Interestingly, Tracphone, a company that will likely benefit from this type of government program, is based in Rubio's Miami, Florida.
Rubio's office has now had to put out a clarification responding directly to these stories, in which they make it clear that the point of Section 1107 is to address infrastructural weaknesses that undermine border security efforts:
FACT: In addition to enhancing technology and fencing at the border, the "Border Security, Economic Opportunity and Immigration Modernization Act of 2013" includes a provision to give rural residents and business owners near the Mexican border access to cell service and phones so they can quickly report border violence to the police and the Department of Homeland Security. This provision was included in the "Border Security Enforcement Act of 2011", in response to the case of Robert Krentz, an Arizona rancher who was murdered on his property and did not have the ability to communicate directly with law enforcement because of his rural location. Giving people living and working on the Mexican border the ability to communicate directly with law enforcement is important to securing our border.
Rubio also took the time to personally and patiently clarify the matter to a confused Laura Ingraham this morning:
Ingraham: "That's alright. Eligibility for grants, because in 844 pages, as you can imagine, there's quite a lot of interesting nuggets in here. You actually can be eligible for a grant for a phone, it looks like. A two year grant program to receive a cellular phone. And articles this morning, as you can imagine, are fairly amusing. 'Move over Obama phone, this is the amnesty phone.' What's going on with that?"

Rubio: "That's false. That's not for the illegal immigrants. That's for U.S. citizens and residents who live in the border region so that they can have access to calls. One of their complaints –- that's actually part of the Kyl border bill that we adopted. And what it does is it provides communication equipment to people who are living in the border region so they can report illegal crossings because many of them either don't have phone service or don't have cell phone service and they have no way of calling."

Ingraham: "I know it's not for the illegal immigrants, but it's an outlay of money, is it not?"
As a side note, I don't know who has been going around suggesting that "enhancing border security" is not going to somehow involve "outlays of money," but they should stop doing that. Rubio continued to explain:
Rubio: "Well again, that's part of a border security package. That all of which is paid for by the fees and fines we are charging as part of this program. That is actually a border security measure that we have adopted and it's involved to help rural citizens who live along the border that have access to communication equipment so they can call police and they can report border violence. Because one of the complaints we got from the border region is they don't have any way to communicate with police or border patrol in time if they see something happening on the border. So this is designed to help in that regard. It's not some effort to provide phone service to anybody."

Ingraham: "That's okay, that's not really something that bothers me. I'm not even sure why that's even in here, but I guess I get your point."
Unless I'm terribly mistaken, Rubio just explained why that's even in there, but bless him, he continues to explain:
Rubio: "Well the reason why that's there is because the people on the border tell us…"

Ingraham: "They don't have cellphones?"

Rubio: "Some of those regions don't have cell phone coverage. They're mountainous regions; they're remote regions in rural areas of the border. Some of the most desolate places in the country, that's why people cross illegally there."
One of the things that Rubio has brought to the overall effort to bring about the passage of a comprehensive immigration reform package is the tireless willingness to continue to explain the bill and his intentions to skeptical right-wing critics. I guess that work will have to continue.
UPDATE: In an effort to provide further clarification, Senator Rubio's press secretary, Alex Conant, just sent out this tweet:
If you've ever emailed @marcorubio about immigration, you were just emailed this video: youtube.com/watch?v=B_-mL5…

— Alex Conant (@AlexConant) April 17, 2013
That video:
[Would you like to follow me on Twitter? Because why not?]