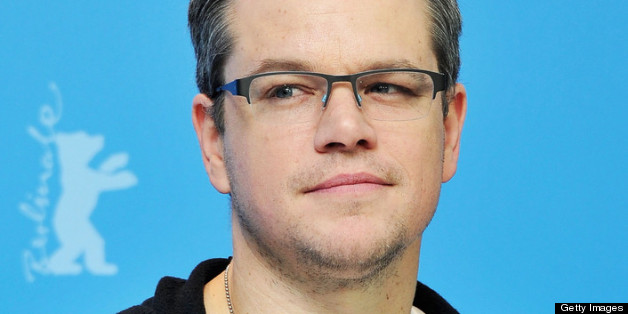 Matt Damon has always been honest about his love for his hometown of Boston. Whether it's through film or through his words about his beloved Red Sox, Damon and childhood friend Ben Affleck rave about their city any chance they get.
Which could explain why Damon wrote a touching essay about his memories of the Boston Marathon for the local paper weeks before the heartbreaking attack took place on April 15. In the piece, published on March 31, the 42-year-old actor shares his thoughts on Marathon Monday and how it's impacted the life of his family and friends.
He writes in the Boston Globe:
On the third Monday in April, Comm. Ave. transforms into a sporting spectacle like no other, overwrought with nerves and excitement as enervated runners from around the world confront the historic Heartbreak Hill(s). I'll never forget standing there in the crowd with my brother, Kyle, as we looked first for Bill Rodgers, and then, in the very same race as some of the most talented runners on earth, our smiling (and grimacing) 40-year-old dad.

My dad, Kent, never did catch Rodgers, but he ran the Marathon with the same passion as "Boston Billy," and he did so four times throughout my childhood.
Damon goes on to discuss the "palpable bond" that exists between the audience and the athletes, "forming a distinctive stew of sympathy and suffering that has lasting effects for both parties."
Of course since Monday's tragic events, Damon's words have become even more poignant.
The word "Boston" is itself a hallmark in the international running community, forging a bond by the very sound of it between all who count themselves among its ranks and those who aspire to them. The strict qualifying standards, originally implemented to thin the growing field, ironically, today only enhance the race's appeal to people whose primary motivation in running is not medals. Now many run for a slimmer waistline, a healthier lifestyle, or simply the challenge of completing 26.2 miles.

These people are champions, too.
While reading the essay, we can't help but point out the last few lines, in which Damon congratulates the runners who not only compete in the race, but aid and promote countless numbers of foundations while doing so. He says that many of the people running in the marathon were benefitting his and his brother's charity TEAM.Water.org.
In the last line of his piece, Damon says something that perfectly illustrates not only what the Boston Marathon is about, but now explains why many of the first responders, witnesses and heroes of the bombings put their lives at risk to help others.
"These people are doing something good for themselves -- and for others," Damon writes. "How great is that?"