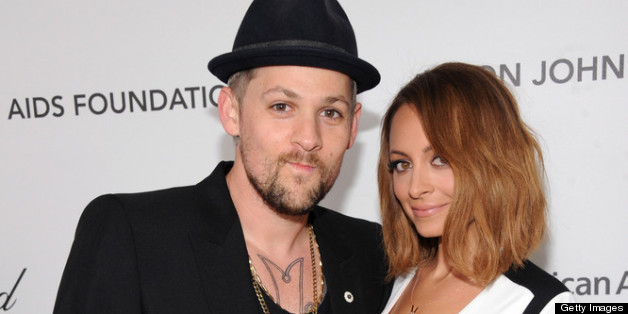 Nicole Richie wasn't wearing her engagement ring when she stopped by "Jimmy Kimmel Live!" last week, prompting speculation that her marriage to Joel Madden is in trouble.
The 31-year-old mother to Harlow, 5, and Sparrow, 3, told Kimmel that Madden, who is in the band Good Charlotte, does indeed sometimes write songs about her. "We're married, so sometimes they're good, and sometimes they're bad," she admitted.
And things between the couple, who married in 2010 after dating for four years, are sadly declining, according to both Life & Style and In Touch.
"They've been living separate lives for a while," an insider told Life & Style in their April 29 print issue, adding that "Joel is never around."
Though the couple was spotted on Wednesday shopping with their daughters , the couple isn't seen together as much as they used to be. In fact, the former "Simple Life" star was recently spotted vacationing with pal Jessica Alba and other friends in St. Barts, and Madden was nowhere to be seen.
A source told Life & Style that the problems in their marriage have been building for months, and they've been spending more and more time apart -- which may explain her decision to take her ring off in recent weeks.
It's not the first time there have been rumors of trouble in paradise for Richie and Madden. In May 2012, the 34-year-old singer slammed reports the couple were having problems, telling Gossip Cop:
"I understand the nature of gossip media, and I accept that. However much I do understand people's need to be entertained by creating stories for blogs and tabloids, I take my responsibilities as a father, and as a husband very seriously. My wife and my children are the most important thing in the world to me."
No relationship is without its problems, and the fact that Richie and Madden are still together nearly a year after initial reports their marriage was on the rocks is a good sign that they might pull through again.
A request for comment made by The Huffington Post to Richie's rep has not been returned at this time.
BEFORE YOU GO
PHOTO GALLERY
Celebrity Couples