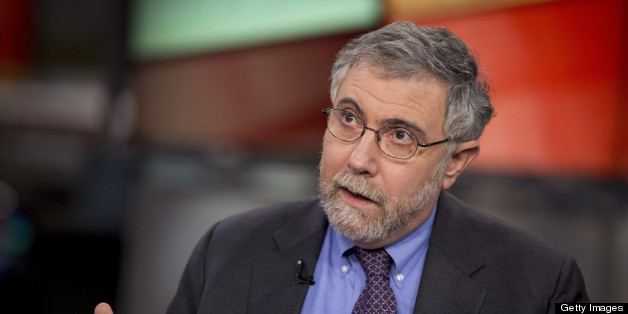 What may seem like a petty debate among wonks could have major consequences for major economies around the world, and Paul Krugman wants all of you to know it.
The Nobel Prize-winning economist wrote a series of blog posts Tuesday dissecting the fallout over a new study that claims that a widely-cited paper by famed economists Carmen Reinhart and Ken Rogoff is full of errors. The highly influential Reinhart-Rogoff paper in question -- which found that economic growth slowed for countries whose public debt was more than 90 percent of their GDP -- has been a favorite of austerity lovers the world around in the aftermath of the financial crisis.
To Krugman, the economists' initial response to the criticism was "disappointing." "They're basically evading the critique," he wrote in a Tuesday blog post. "And that's a terrible thing when so much is at stake."
In a second response at 2 a.m. on Wednesday morning after Krugman wrote his post, Rogoff and Reinhart stood by their overall finding that higher debt is connected to slower growth. They did, however, admit to a now infamous Microsoft Excel mistake.
The controversy over the paper comes as debates continue to rage in Europe and Washington over the merits of cutting spending -- which has lead to high unemployment and slowed immediate economic growth in many cases -- in an attempt to boost growth and better deficit outlooks.
Indeed, just this week the International Monetary Fund's chief economist, Olivier Blanchard, asserted that while U.S. spending cuts improved the country's deficit outlook, it hurt its overall economic growth in the process.
For his part, Krugman says he never really believed the paper's findings anyway. He wrote in another post that the paper "wasn't worthy of the authors" and that austerity defenders seized on it "to find excuses for inflicting pain."
BEFORE YOU GO
PHOTO GALLERY
Paul Krugman's Greatest Takedowns