The country's largest movie theater chain probably didn't expect widespread boycotts when it recently sent out a company memo about health care costs.
In the wake of news that Regal Entertainment Group had cut some workers' hours down to 30 per week as a result of the 2010 Affordable Care Act, the public has taken to the company's Facebook page to let its anger be known.
(SCROLL DOWN TO SEE PHOTOS OF REGAL'S FACEBOOK PAGE)

Some customers simply expressed frustation with the company's decision and vowed never to visit the movie theater again. Others highlighted the billions in profits the company enjoyed last year, as well as CEO Amy Miles' 31 percent pay bump.
"I will never view a film at a Regal facility again," Facebook user Chris Binnett wrote Wednesday afternoon. "Greed and selfishness make me sick."
The company did not respond to multiple requests for comment from The Huffington Post.
Binnett is just one of hundreds of customers boycotting the movie theater chain after the company wrote in a memo, obtained by Fox News, that workers' hours would be cut as a direct result of the new health care law. Workers who do not average 30 hours per week, like many Regal workers now under its new policy, are not legally entitled to health benefits from their employer.
Regal is not the first large U.S. employer to face public backlash after attempting to skirt Obamacare. Darden Restaurants, the parent company to Red Lobster, also faced scorn as a result of tests to use of more part-time workers to limit healthcare costs. The company ultimately backed away from the idea.
Do you plan on boycotting Regal because of its Obamacare policy? Email us at business-tips@huffingtonpost.com and tell us more.
Here are some of the posts currently on Regal's Facebook wall: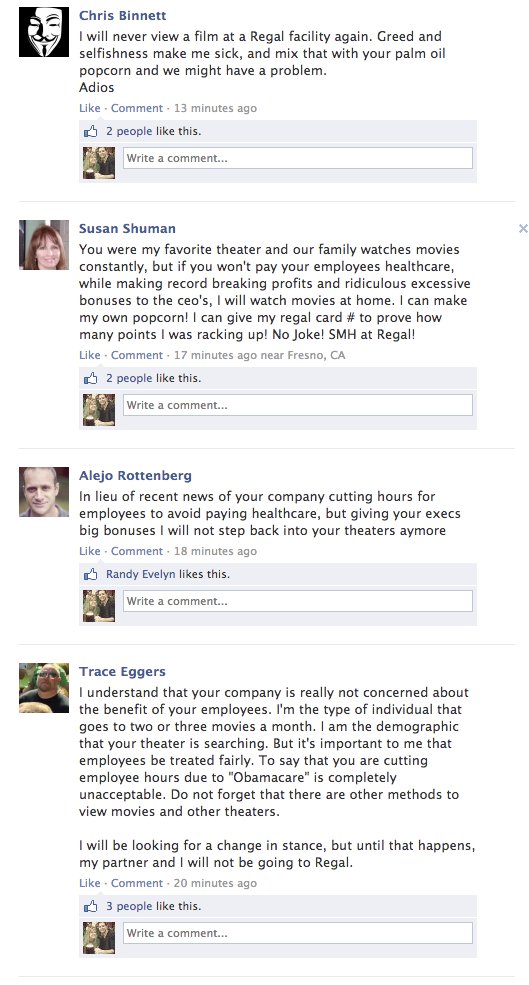 CORRECTION: A previous version of this post misidentified Darden Restaurants as the parent company of Applebee's.
BEFORE YOU GO
PHOTO GALLERY
Obamacare Haters