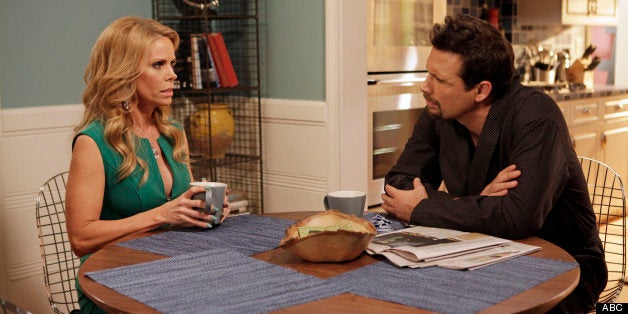 Spoiler alert: Do not read on unless you've seen the one-hour Season 2 finale of ABC's "Suburgatory," titled "Apocalypse Meow" and "Stray Dogs."
Things fell apart for many of our characters in the "Suburgatory" Season 2 finale, leaving Dallas (Cheryl Hines) and George (Jeremy Sisto) at odds, Tessa (Jane Levy) staying with her mother Alex (Malin Akerman), and Dalia (Carly Chaikin) choosing to stay with Daddy Altman instead of her insecure mom.
So where do our characters go from here? The Huffington Post spoke to creator Emily Kapnek about her plans for a potential Season 3 and why she felt George and Dallas needed to separate.
Every character experiences a change in circumstances in the finale -- did you know exactly how you wanted the season to end when you started writing it, or did it evolve over the course of the year?
We knew that we wanted to do a season where [George and Tessa] were really acclimating and assimilating, but Season 1 was so much about the kicking and screaming, particularly for Tessa. [This year] ... literally, the curl went out of her hair. We actually said to hair and wardrobe, "let's start really softening her. Let's start seeing her hair a little swooped out," and she's in Ryan's [Parker Young] letterman jacket and it gives us this place for her to look up and go, "holy shit, what happened to me?" And to some degree that's happened to George as well. He's been sucked into this relationship with Dallas and suddenly he's wearing polo shirts and belongs to the country club. God, what happened to you George Altman?
Whether it takes Alex to hold up the mirror and say, "God, you guys don't remember yourselves," or it's their own revolution going into a Season 3, hopefully, I do think that they're due for a little bit of a return to self. As we enter Season 3 that would be what we would be looking for: "Oh my God, what happened to us?" and "Chatswin's devoured our souls" and "how do we guard against this?" I think George and Tessa moving locations and his new place up in the hills, it puts them in a great place to be separated from Chatswin proper. One of the great things that we got into initially with the series is this Land of the Moms and what it means when you're a family without a mom in this community that just is dedicated to and prides itself on momming, if not over-momming. Here we have all these kids, who we've gotten to know and love, poised for an exit. Everyone is going to get ready to go off to college and for Sheila [Ana Gasteyer] and Dallas and George to be staring down this potentially empty nest, how do these Chatswin parents deal with that? That's something we've been looking to in Season 3.
Would you want to pick up right where you left off or do another time-jump?
It's always complicated by when you actually air. We had wanted to pick up where we had left off [this season] and for a minute when it seemed like we were going to come away back in the fall, we thought "maybe there's a possibility," there's just the end of summer and we had left off at Mother's Day but then once we got pushed and we actually didn't premiere until, I think, October -- I think our second episode was Halloween. The scheduling is always its own monkey wrench so you really have to be resilient and think on your feet and not overly plan. So you know what your stories are and then you have to figure out what season and what time frame are you able to tell them, if you're lucky enough to find yourself back on the schedule, which hopefully we will be, but you never know.
George and Dallas spent Season 1 with this will they/won't they chemistry, and even when they were dating this season, there were plenty of obstacles and issues, so they didn't get much time to just be a normal, happy couple together. Why did you decide that you needed to break them up at the end of this year?
We definitely weighed both options. I actually talked with Jeremy and Cheryl. I had them come up to my office and we talked about their relationship and what we were all feeling and the different ways to go. We've discussed the possibility of them blending families and the girls living side by side and them trying to make it work, and we talked about the opposite. We talked about what it if all falls away and the fallout. And I think that we all agreed that the blended family scenario felt much more sitcom-y to us and maybe not as inspiring creatively as dealing with the fallout.
I mean, I loved watching Cheryl navigate Dallas' divorce. I do think one of the things that's unusual for our show is that we have these actors who are not just comedic actors -- there's real depth and there's real range and whenever we write to that and we give them these meatier storylines, it's very rewarding and I think the viewers like it too. It really is one of the things that makes the show its own animal; we have this heavier stuff lurking in the sidelines and I really relish those episodes where we get to have it rear its head and we get to give them a chance to stretch. Jane Levy is quite a dramatic actress herself, and Jeremy and Cheryl ... it's just been amazing. I think from a creative standpoint, us writers feel like we get to have our cake and eat it too, over here.
Do you think that George and Dallas are truly compatible, or do you think there would always be obstacles and reasons for them to fall apart?
I think there's obstacles. I think that one of the things that I like so much about their breakup is that they both make such good points. And I think that George saying "Dallas, you don't love yourself, and this person doesn't love you as you and you're in the way," I think Dallas definitely has some work to do, in order to be in a proper relationship. I think that she should be single. She's not spent much time being alone and I think we watched her jump headfirst into George Altman straight out of her divorce.She needs to spend a little time working on her identity outside of a relationship.
And George -- even though it does seem like a practical choice choosing Dallas -- I do think he chose with his head a little bit more than with his heart. I think he has a real soft spot for Dallas. It remains to be seen if they're soulmates in that way, if you subscribe to that kind of notion, but I do think it will be fun to see him single again and maybe navigating a little bit of that, God willing. If we have the opportunity to have Malin Akerman back in our world, it's one of the juiciest potential storylines we have -- taking our show that was about a single dad and how he raises his daughter alone, and having our show evolve into what it means to co-parent with someone who you thought was out of the picture, and navigate that a little bit. Because speaking of chemistry, George and Alex, as we saw at Thanksgiving, there's a lot there. They're not indifferent to each other and I do think that's a fantastic area that I would just love to mine. But [Malin's] got a potential pilot and she's got a baby that's due any minute, so we'll see.
You used Alex sparingly throughout the season, which emphasized the awkwardness and unfamiliarity between her and Tessa. Was that due to scheduling conflicts or just because you didn't want to overplay your hand?
It was both. She was available earlier ... I think she may have been pregnant in our Christmas episode. So that was coming. She was quite pregnant when we shot the finale, although you can't really see it on here. We did a good job of masking that. So she was preparing for how much she wanted to do at that time and she was also preparing to shoot a pilot, but my feeling in general was that we should exercise some restraint there. It's not accidental -- I do think you become numb to it if you go to it too frequently. I do think it loses its value and I think it really is a hard line to walk in terms of the right amount of all of these things that make this mixture.
Even for Dalia, we waited to do this storyline with her and we try to move the spotlight around and not over-expose any one of these areas, particularly with this Alex stuff and the emotional stuff. My biggest concern was that it would start to feel formulaic or calculated. I think you just have to do it with a light touch. We do emotional and big holiday episodes and big finales and have it dancing at the sidelines and just beneath the surface on other episodes. But then again, we are a half-hour show so we try not to weigh everyone down too much with our baggage along the way.
George and Tessa have a great relationship, but they've also had their share of ups and downs. If you're renewed for Season 3, do you intend for Tessa's summer with Alex to actually present her as a viable alternative to George's parenting, or for it to help Tessa appreciate her father more and realize it was more of a "grass is greener on the other side" experience?
I think that Tessa loves her dad and has an enormous amount of empathy and affection for him. One of the things that you navigate when your parents are divorced ... it becomes a battle cry, "I'm going to go live with my mom!" "I'm going go live with my dad!" It's just an option. You do play both sides against each other and I don't think that was ever an option for her because her mom wasn't around. I think it's really natural and relatable and I hope everyone forgives her for it because I do think it's very human and teenage kind of emotion and progression for her to explore that.
However, in my mind, once Tessa processes what's going on with George and that he and Dallas did not move in together, and that he is alone and broken somewhere, I can't imagine that she wouldn't run to her dad's side to check on him. So depending on Malin's availability and whether we get to write to her or not, we have a couple of potential storylines for how we are going to examine that. But ultimately, I think [Tessa and George's] relationship is at the heart of this show and it's been really fun challenging it and pulling at it and at this point, given what goes on in the finale, they do have a common enemy and that just might be Chatswin.
What did you think of the "Suburgatory" Season 2 finale? Do you think George and Dallas are meant to be, or would he be better off with Alex? Weigh in below!
PHOTO GALLERY
2013 Renewal Index: Canceled, Renewed & On The Bubble Shows
BEFORE YOU GO