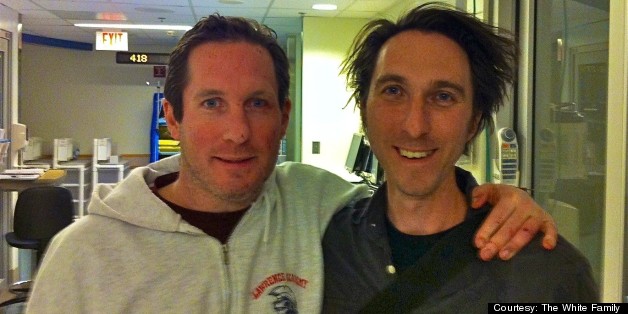 BOSTON -- Kevin White walked out of Boston Medical Center Wednesday night with a hole in the middle of his left forearm roughly the size of a nickel, sealed with dark clotted blood.
"A piece of metal was embedded there," White explained, sitting at a picnic table outside the hospital after he'd been discharged. The hair on the back of his head had been singed by explosives, leaving it shorter than on the sides. "That was fire and smoke," he said.
These were among the more superficial injuries White sustained Monday, standing six feet from one of the homemade bombs that tore apart the finish line of the Boston Marathon. White, 35, suffered a concussion from the blast, along with a ruptured left eardrum, and hairline fractures in some of his bones.
As Andrew White, Kevin's only brother, checked him out of the hospital, their mother, Mary Jo White, 65, remained behind. The shrapnel tore through her left arm, shattering the bones in her wrist and forearm.
Across town, Andrew and Kevin's father, Bill White, 71, lay in the intensive care unit at Massachusetts General Hospital, where surgeons on Monday amputated his right leg above the knee. The limb was mangled beyond repair by the same deadly bomb shrapnel that claimed three lives and forever changed hundreds more.
"It's crazy, and it's really scary," said Andrew White, 38. "Right now I'm just trying to manage everything for my family and hold it all together."
Kevin White, a private equity adviser who was visiting Boston exploring career options, said caring for his parents -- at least in the near term -- will be his first priority.
Yet even as the two brothers prepared to make major life adjustments, they refused to focus on the negatives. "I could hate [what happened] and be angry about it and think these things shouldn't happen," said Andrew, a clinical psychologist in Portland, Ore. "But that's not going to make my dad have a leg."
"This happened, and there's no one thing that's to blame," Kevin White added. "A series of small events led to other ones, and it's really awful. But this is where we are."
Like so many of the victims of Monday's attack, no member of the White family was running in the marathon. "We were there because it was a beautiful day, a holiday, and we figured we'd just check out the race and maybe go on to the ball game," Kevin White recalled.
Just before 3 p.m., Kevin White said he heard the loudest boom he ever imagined. "The sound coursed through my whole body, and then there was a giant flash of white light, before everything went dark," he said. When he landed on the asphalt a few feet away, White said he instinctively got up, numb with adrenaline and fear. "I eventually made my way to the medical tent, but there was so much chaos and smoke everywhere that I didn't know where my parents were," he said.
With blood dripping from his face and arms, volunteers quickly steered him to an ambulance. "The ride to the hospital was really intense," he recalled. "There was a woman next to me weeping, and she asked me to hug her." In addition to his internal injuries, Kevin White had a three-inch piece of shrapnel in his forearm. He comforted the stranger all the way to Faulkner Hospital.
"While I was in the ambulance, I sent text messages to friends of mine, because cell phones weren't working, asking them to reach my brother." Within minutes, a colleague of Andrew White's interrupted him. "I was on the next flight out," Andrew said.
On Wednesday night, the brothers headed to Mass General, where Kevin White saw his father for the first time since the blast. "I didn't really know what to expect when I got there, but it was so different from my mom, who is in a painful but mobile stage. My father was in a more severe stage."
Bill White, a decorated Vietnam War veteran and semi-retired mergers and acquisitions consultant, spent decades coaching his sons' soccer teams. His condition was hard for his sons to process. "It was really tough, because I talked to my dad on the phone today," Kevin White said after the visit. "But when I saw him, he was [sedated], and his condition was really serious."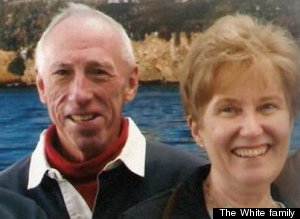 Bill and Mary Jo White (pictured above) have health insurance -- a serious concern as both parents undergo multiple surgeries. To help cover the expenses that insurance doesn't, former classmates of Andrew and Kevin White at Lawrence Academy, a private high school in Groton, Mass., organized an online fundraising drive. Since the fund's launch on Tuesday afternoon, they've raised more than $16,500 from school alumni, friends and strangers who reached out to help. Kevin White encouraged anyone who wants to help bombing victims to donate to The One Fund , an official victims fund established by Massachusetts Gov. Deval Patrick and Boston Mayor Tom Menino.
Benjamin Coutu, an organizer of the family fund, met Andrew White during their sophomore year in high school. "We both played guitar," he said. "We formed a band -- the Purple Sheep." He still considers Andrew White one of his closest friends.
When he learned of the explosions Monday, Coutu turned on his television and watched the endless loops of graphic video showing the injured being carted away. He noticed a man in a wheelchair who looked a lot like Kevin White. He had a laceration on his face, a blood stain on one of his hands, and a rip in one of his pant legs. "He had a look of complete shock," Coutu recalled.
Coutu soon took out his camera and snapped images of Kevin White on his television. He cropped the photos and texted them to Andrew White, who confirmed that was indeed his brother.
Katy Chapdelaine Coburn got an email from a classmate explaining what had happened to Kevin White and his parents. Coburn, who graduated in the class of 1992 with Andrew White, set up the fundraising website with Coutu. "I just felt like I needed to act," she said. "It was horrible. I knew that this guy's family was in the hospital. The pictures were so grisly and so powerful. This was right in my neighborhood."
Coburn said the fundraising has gone viral. "People want to do something," she said. "They feel powerless."
But powerless is not how the White family feels.
"There are many, many people who've suffered far more than we have the past three days," Kevin White said as he and his brother drove home from visiting their father.
"Whatever the motive of whomever put this plan in motion, at this point it doesn't matter," Andrew White said. "We're coping with what's going on now and we're moving forward."
BEFORE YOU GO
PHOTO GALLERY
Boston Marathon Explosion (GRAPHIC PHOTOS)
04/19/2013 2:30 AM EDT
GLOBE: Bombing Suspect In Custody, Another Remains On The Loose
One marathon suspect has been captured, according to an official with knowledge of the investigation.
Another remains on the loose in Watertown after a firefight with police. Authorities have established a 20-block perimeter as they search for him.
Read more here.
04/19/2013 12:44 AM EDT
Unconfirmed Photo Of Suspect 2 In Boston Marathon Bombing Emerges On Facebook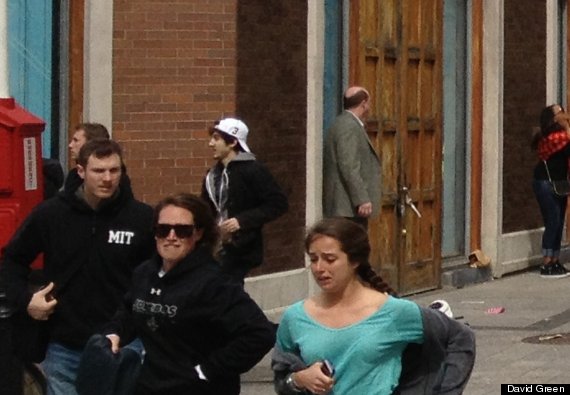 Just hours after the FBI released the first photos of suspects in the Boston Marathon bombing, a new photo of Suspect 2 may have emerged.
David Green, 49, of Jacksonville, Fla., had just completed his first Boston Marathon, when he snapped a picture with his iPhone 4S, taken at 2:50, just after the two blasts ripped through the finish line area, killing three people and injuring more than 180 others.
The FBI has not publicly confirmed this photo as Suspect 2, but Green told the Huffington Post that an agent told him, "this is probably the best we have right now."
The man who appears to be Suspect 2 is wearing a white hat with a "3" on the side as seen in the publicly-released photos.
Read more here.
04/18/2013 10:19 PM EDT
Boston Bombing Victim in Iconic Photo Helped Identify Attackers: Bloomberg
Minutes before the bombs blew up in Boston, Jeff Bauman looked into the eyes of the man who tried to kill him.
Just before 3 p.m. on April 15, Bauman was waiting among the crowd for his girlfriend to cross the finish line at the Boston Marathon. A man wearing a cap, sunglasses and a black jacket over a hooded sweatshirt looked at Jeff, 27, and dropped a bag at his feet, his brother, Chris Bauman, said in an interview.
Read more here.
04/18/2013 9:04 PM EDT
Federal Law Enforcement Says Suspects Stayed To Watch Carnage: CNN Reports
Federal law enforcement official says the 2 suspects stayed at scene to watch the #Boston carnage unfold. on.cnn.com/175CKDq

— CNN Breaking News (@cnnbrk) April 19, 2013
04/18/2013 7:26 PM EDT
Right Wing Journalist Goes Ballistic During Press Conference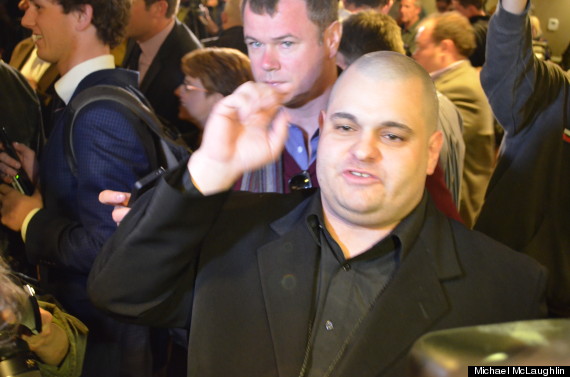 BOSTON -- Moments after the FBI revealed images of two baseball cap-wearing men wanted for questioning about the Boston bombings, the press conference descended into a sideshow.
A journalist from a far-right wing website called Info Wars shouted out a question accusing the government of carrying out the attack that killed three, and maimed or injured 170 others.
FBI Special Agent in Charge Richard Deslauriers ignored the allegation of a government conspiracy from reporter Daniel Bidondi, but the Alex Jones protege did not stop hollering.
"The FBI lies," Bidondi said. "We've got the proof," he said accusing the government of a "false flag" attack in which it staged the blasts and made them appear like the work of terrorists.
Bidondi found himself at the center of an media scrum with cameras and microphones pointed at his face after law enforcement officials left the podium in the Sheraton hotel.
Another reporter ridiculed Bidondi from across the room, telling him to shut up and calling him an asshole.
The excitement quickly dissipated as reporters returned to delivering the news about the official images of the suspects.
Bidondi has been a presence at other press conferences this week related to the bombing investigation.
--Michael McLaughlin / HuffPost Crime
CORRECTION: An earlier version of this story misspelled Bidondi's last name. We regret the error.
04/18/2013 6:46 PM EDT
Facial Recognition Expert Reacts To FBI Photos
Dr. Ralph Gross, a facial recognition expert at Carnegie Mellon University, said the FBI photos of two suspects in the Boston Marathon bombing are likely too grainy to be matched against a driver's license database or Facebook. But he thinks they may be just good enough for someone who knows the individuals to identify them.
"The resolution isn't particularly good. The one that's kind of best is unfortunately a side view -- and in general the face recognition software works best with frontal view," he said.
Research has consistently found, however, that people can spot people they know even in grainy, off-center photographs.
"Humans are actually very good at recognizing people that they are familiar with," Gross said. "Somebody that might know these guys, or might know the way they dress, might certainly be able to recognize them."
The FBI said the men should be considered armed and dangerous, and urged tipsters to call 1-800-CALL-FBI if they believe they have information that could lead to an arrest.
--Matt Sledge
04/18/2013 6:21 PM EDT
Daily News Doctored Photo
The New York Daily News reportedly doctored its front page photograph of the Boston bombings (see update below).
WARNING: LINK GOES TO GRAPHIC PHOTO
04/18/2013 5:37 PM EDT
Hi-Res Image Of People Of Interest

04/18/2013 5:30 PM EDT
FBI Website Down
CNN reports that, because of a flood of traffic, the FBI's site is temporarily down.
This is a breaking news story. Please check back for more updates.