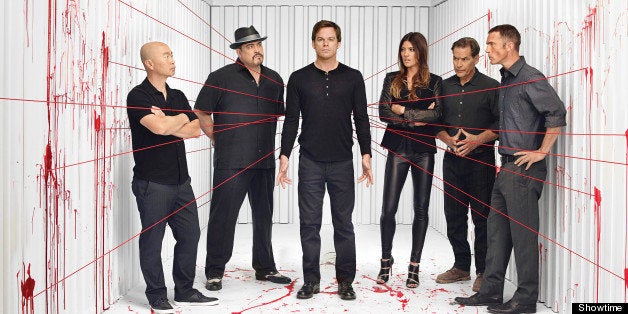 It's official! "Dexter's" last season will be its upcoming eighth season. Showtime made the announcement on the "Dexter" Facebook page to its more than 13 million fans on Thursday afternoon.
"'Dexter' is a landmark franchise for our network, and we cannot wait to unveil the conclusion of this series, as we know it, to the millions of passionate fans who have supported the show season after season," David Nevins, president of entertainment at Showtime Networks Inc., said in a statement. "We'd like to thank Michael, Jennifer, and 'Dexter 's' indomitable cast, executive producers, writers and crew for eight incredible seasons."
"When it debuted in 2006, 'Dexter' redefined the genre, by taking the anti-hero to new heights and pushing the boundaries of the television landscape," Matthew C. Blank, chairman and CEO of Showtime Networks Inc, said in a statement. "'Dexter' paved the way for the next generation of award-winning hit Showtime series, and its cultural impact will be felt for years to come."
"We have 'Ray Donovan' coming on with Liev Schreiber, which comes on with 'Dexter's' last season starting in June, and then we have 'Masters of Sex,'" he said, according to The Hollywood Reporter.
But Nevins had refused to commit to ending the series after Season 8. At the 2013 Television Critics Association Press Tour, he played it coy, telling reporters, "We're not making any announcements today about when 'Dexter' will end. I think I will clarify before 'Dexter' goes on this season. We have clear end game in place, I can't talk about it just yet."
"Dexter's" last season is set to premiere on June 30 and if the series star has anything to say about it, "Dexter" won't end neatly.
"I've been an advocate for having a dialog with the writers and getting a sense of how to best bring this story home -- not wrap everything up with a tidy bow, but find some sort of conclusion," series star Michael C. Hall told EW. "There has to be an end game. Once Deb found out, it felt like we were moving toward a place where the world as Dexter knew it would end."

As a conciliation prize about Season 8 being the last season for "Dexter," Showtime released nearly two minutes from Season 8 here and it is not pretty.
Deb has gone rogue and is hitting the bottle hard after Season 7 ended with her killing her boss. "My life is none of your business," she tells Dexter in the sneak peek above. "Do you want to know why I'm not returning your phone calls? Because I don't want to talk to you. And I really don't want to f***in' see you ... Because you made me compromise everything about myself that I care about and I hate you for it ... I shot the wrong person in that trailer."
Do you think Showtime made the right decision about "Dexter's" last season? Will you be sad to see it go? Sound off in the comments!
"Dexter's" eighth and final season premieres on Sunday, June 30 at 9 p.m. ET on Showtime.
PHOTO GALLERY
Dexter Season 7 Photos
BEFORE YOU GO