Once upon a time in 1970, the young conceptual artist John Baldessari suggested an unusual and disturbing idea for an art project. He wanted to display a human cadaver behind a peep-hole, presenting the dead body to visitors in a manner reminiscent of Andrea Mantegna's classic painting, "The Lamentation over the Dead Christ." However, the strict legal framework protecting human remains prevented Baldessari from realizing his morbid art dreams and the idea, well, died.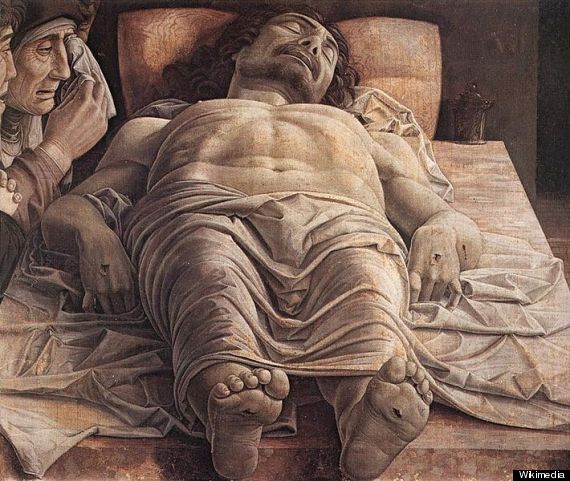 The Lamentation over the Dead Christ by Andrea Mantegna (c.1490) Tempera on canvas, 68 x 81 cm Pinacoteca di Brera, Milan.
Until 2011, that is, when Hans Ulrich Obrist, the co-director of London's Serpentine Gallery, and Klaus Biesenbach, the director of MoMA PS1, tried and failed to resurrect the concept. According to The Art Newspaper, the duo attempted to conquer the legal setbacks Baldessari experienced four decades earlier to revive the cadaver project, but their efforts were futile. Instead, Obrist and Biesenback ended up displaying all the messy paperwork they encountered in a exhibition at the Manchester International Festival titled "11 Rooms."
The show displayed the immense amount of correspondence documenting the second attempt at obtaining a body, sufficiently blurring the lines between art and death; "11 Rooms" has since travelled to various locations and grown in size, shifting its focus from the "Unrealized Proposal for Cadavre Piece" to a newer concept titled "Thirteen Colorful Inside Jobs." However, that doesn't mean Obrist has lost hope for resuscitating Baldessari's original idea.
"It's not excluded that one day it will happen," Obrist told The Art Newspaper in Sydney this week. "You need the consent of the person obviously before they die. At the same time you need the consent of the family as well as legal authorisation."
"13 Rooms," as the exhibition is now called now, is currently on view at Sydney Harbour courtesy of Kaldor Public Art Projects, showcasing works by Marina Abramovic, Joan Jonas, Damien Hirst, Tino Sehgal, and more. Let us now what you think of Olbrist, Biesenbach and Baldessari's odd cadaver fascination in the comments. Would Andres Serrano photograph the series?
Will.I.Am Hung Out At The Louvre To Record A Song About The Mona Lisa: Oh, the things celebrities get away with sometimes. The Black Eyed Peas member and current star of "The Voice" was allowed into Paris's iconic museum to record his song, "Smile Mona Lisa." Wait, so he didn't even shoot a music video? (The Telegraph)
Picasso Heads To The Met: Picasso's 1913 painting "Woman in an Armchair (Eva)" is now on view at the Metropolitan Museum of Art, thanks to Leonard Lauder's generous billion dollar gift. Huzzah! (Art Daily)
Gallery Offers Marijuana In Exchange For Art Donations?: Denver police busted a gallery for running a certifiably shady operation involving the exchange of weed for donations. LOL, Colorado. (CBS)
MOCA Endowment Hits $75 Million: Things are looking up for MOCA, it seems. "There is a new energy and excitement about MOCA's future and its leadership role in the art world," said Eugenio Lopez, an endowment campaign co-chair. (LA Times)
Want A Watch Adorned With Degas Sketches?: Your wish is Vacheron Constantin's command. (ARTINFO)