Whoops.
A local paper in Minnesota ran an unfortunately placed ad for a pressure cooker -- right next to a story about the Boston Marathon bombing, which was likely carried out using pressure cookers packed with shrapnel and explosives.
The ad, featuring a $19.99 pressure cooker from Macy's, appeared Thursday in the tablet version of the Minneapolis Star Tribune alongside a story written by Washington Post reporter David Fahrenthold about normal citizens helping save the lives of those wounded in the Boston blasts.
MinnPost media reporter David Brauer spotted the digital ad on Thursday: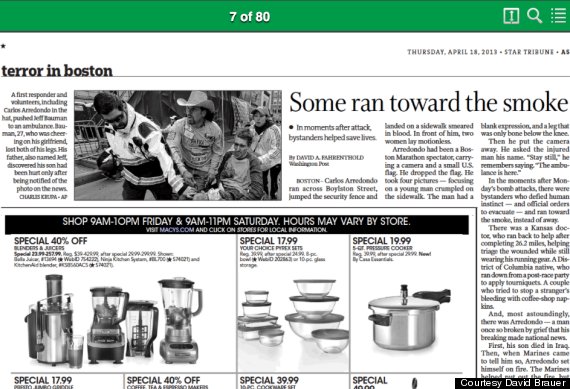 The ad also appeared in the paper's print version next to the same story: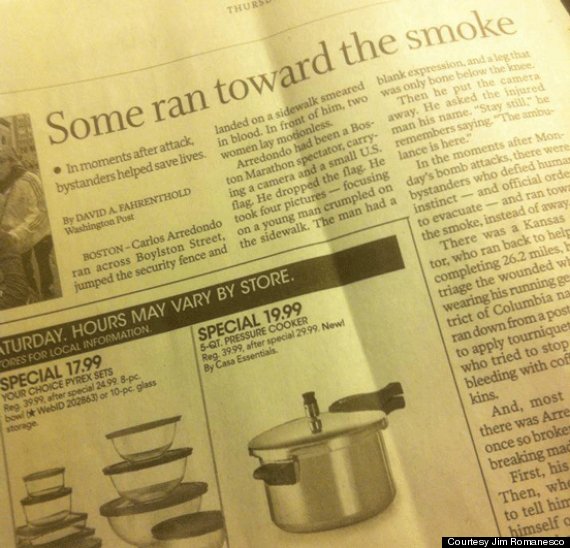 The Minneapolis Star Tribune did not return a request for comment from The Huffington Post.
Authorities said Tuesday they found the remains of an exploded pressure cooker near the finish line of the Boston Marathon. It is believed the item was used to make one of the bombs that went off on Monday.
Images of two possible suspects in the Boston bombing are expected to be released by investigators on Thursday.
BEFORE YOU GO
PHOTO GALLERY
Boston Marathon Bombings