ALEXANDRIA, Va. -- What do full moons, a Weenie Beenie and a children's daycare have in common?
Usually, nothing.
But reports on the arrest of two Alexandria women, Betty Ross and Cassandra Lewis, who were charged with seven counts of contributing to the delinquency of a minor involve every bit of those three things.
Ross and Lewis run a daycare out of a home in Alexandria, which according to a WJLA report, smelled of "excrement" from outside the front door.
The two were arrested after many drivers spotted a vehicle they were driving with seven young children inside, none of whom were properly secured and strapped into car seats, and contacted police. ARL now has details:
Around 9:00 a.m. on Thursday, police received several calls for a vehicle containing numerous young children who were not in proper children's car seats. Police pulled the vehicle over as it was leaving the Weenie Beenie parking lot on the 2600 block of Shirlington Road, according to Arlington County Police spokesman Dustin Sternbeck.

Inside the 2004 Ford Explorer, officers found seven children, ages 5 months to 3 years, and, according to police, "none of them were buckled in with any type of safety restraints." One child was on the lap of a woman in the front passenger seat, four were in the back seat, and two were in the rear cargo area, Sternbeck said.
Weenie Beenie is a hot dog fast food restaurant in Shirlington, made famous by musician Dave Grohl's mysterious song of the same name, as well as the restaurant's pool-playing owner and tasty food.
How did the arrest lead to a pantsless on-camera performance? The full moon came out when WJLA came to the home that housed the daycare to investigate the situation. That's when a neighbor cursed at and pulled down her trousers to the news cameras. She was also filmed removing warnings to parents that were posted on the daycare's door.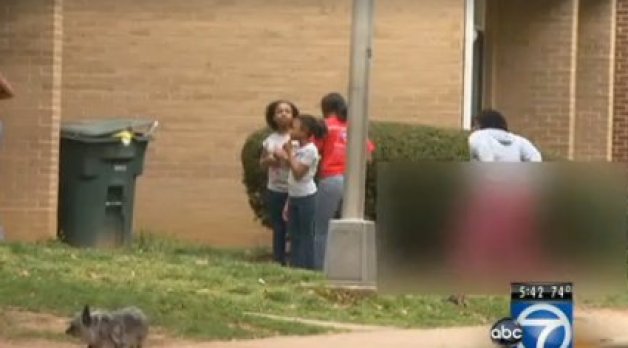 You can watch what leads up to the big reveal in the video at the top of this page.
While the moon may have shown brightly for the news crew, the true story is the safety of the children that were under the care of Ross and Lewis.
According to Arlington Now, the Alexandria County Police Department crime report stated that none "of the children were physically injured, and all of the children were returned to their parents."
BEFORE YOU GO
PHOTO GALLERY
Bad Choices