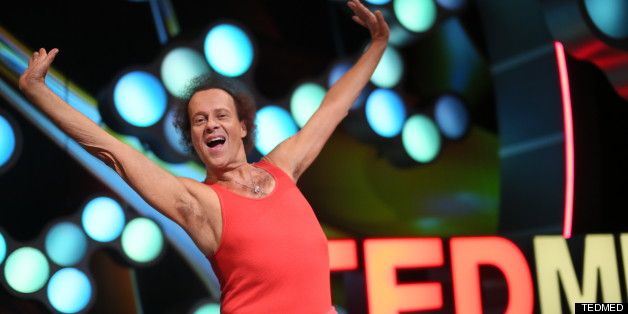 Richard Simmons didn't get his "fitness icon" status by sitting around. The 64-year-old king of aerobics (and also a HuffPost blogger) brought the whole crowd at TEDMED 2013 to its feet with his dance-inspired fitness moves. We caught up with Simmons after the conference-wide workout sesh to ask him some questions about his daily health habits and inspirations -- here are five things we learned:
1. His go-to breakfast is cereal. He says he keeps four cereals in rotation -- including multigrain Cheerios and Kashi cereal -- and he also likes to eat oatmeal. He incorporates starch into breakfast and lunch, but not dinner. "I'm not going to have a starch at night," he says. "I'm not building tract homes!"
2. He works out for an hour-and-a-half each day, and prays every day.
3. He de-stresses by crying. "When you're talking to 30 people who hate themselves, it can be draining," he says of his daily motivational work. He tells HuffPost that he "doesn't tell people my problems, I internalize things. I'm hard on myself." He finds that crying helps to ease that burden. "A lot of men find crying to be a weakness … it's better to get it out."
4. He used to be obese, but he lost weight at age 19, dropping from 268 to 119 pounds. But he lost the weight at that time through "many eating disorders," which almost destroyed him. Simmons said: "The doctor said, 'Do you want to live or do you want to die?'" Once he started thinking about it as living versus dying -- instead of just being thin -- he adjusted his priorities to focus on a sustainable healthy lifestyle and to make fitness more enjoyable.
5. His best advice for getting started on your weight-loss goals: Take inventory of your life. He encourages people to make a list of priorities, and to figure out what they want to do with their lives. "Find out if there's a passion you want to do, or how much you want to lose ... then make a plan and stick to it."

ALSO ON HUFFPOST:
PHOTO GALLERY
BEFORE YOU GO
Fitness Quotes
PHOTO GALLERY
Fitness Quotes