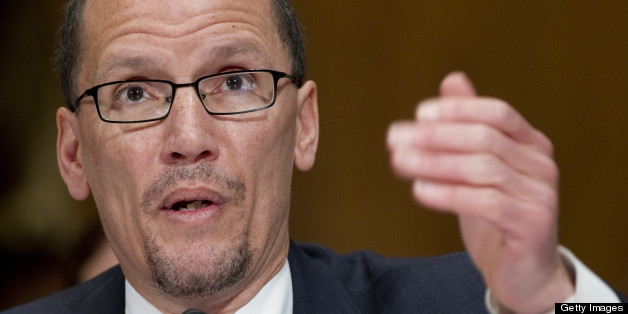 WASHINGTON -- The Senate confirmation hearing for labor secretary nominee Thomas Perez sounded a lot like a Justice Department oversight hearing on Thursday, as Republican lawmakers sought to pressure the Obama pick over his tenure as head of the Justice Department's Civil Rights Division.
As expected, much of the questioning from GOP senators dealt with a deal Perez helped arrange last year with the city of St. Paul, Minn., that enabled the Justice Department to avoid a potentially unfavorable decision from the Supreme Court in a housing discrimination case.
The back-and-forth on that particular deal -- on which Republicans issued a detailed report ahead of Thursday's hearing -- tended to overshadow the discussion of bread-and-butter Labor Department issues, such as job training, workplace safety or the worst unemployment crisis since the Great Depression.
"The decisions made in this case were made in the best interests of the Unites States," Perez asserted.
Officials at the White House and in the Labor Department expect Perez to win confirmation, though he may take a few shots in the process -- a prognosis that shouldn't change after Thursday.
Early in the hearing, Committee Chairman Tom Harkin, as well as Perez himself, cast the nominee's biography as a quintessentially American success story, the son of political exiles from the Dominican Republic rising to some of the highest legal posts in government. Perez has been widely credited with getting the Justice Department's civil rights division back on track, aggressively pursuing housing discrimination and voter intimidation cases. According to the Justice Department, last year Perez's unit recovered more money in fair housing and lending cases than between all of 1989 and 2011.
Perez, a veteran of such hearings, framed his priorities as a labor secretary in the most politically palatable way possible: "jobs, jobs, jobs." He said that if confirmed, he would operate according to the three questions President Obama has urged him and other appointees to keep in mind:
"How do we make America a magnet for jobs? How do equip our people with the skills they need to succeed in those jobs? And how do we ensure that an honest day's work leads to an honest day's living?"
Nonetheless, the spotlight often returned to St. Paul. In that case, the Justice Department declined to join a pair of whistleblower suits against the city in exchange for the city withdrawing a housing discrimination case before it could be taken up by the Supreme Court. Perez and civil rights advocates were concerned that an unfavorable decision from the high court would undermine other Justice Department housing discrimination cases.
Sen. Lamar Alexander (R-Tenn.) accused Perez of meddling in what should have been the domain of the Justice Department's Civil Division.
"Why is that your business?" Alexander asked. "You're not a party to the case, correct?"
"With all due respect, the Department of Justice is a guardian of the Fair Housing Act," Perez responded.
"Well, the Department of Justice is a guardian of taxpayers as well, is it not?" replied Alexander, referencing the whistleblower cases. "It's an extraordinary thing that you would get involved with the city of St. Paul."
"I do not know what the controversy is," Harkin said at one point. "I can assure this committee that Tom Perez has the strongest possible record of professional integrity, and any allegations to the contrary are unfounded."
Sen. Tim Scott (R-S.C.) took the opportunity to criticize Perez's division for investigating a voting rights case in South Carolina, which Scott held up as signs of "a political bias" on Perez's part. He also accused Perez of creating a "politically charged environment" at the Justice Department.
"I respectfully disagree with your characterization of what we had done," Perez said.
Perez, who previously served as labor secretary for the state of Maryland, did have the opportunity to talk labor policy. Sen. Tammy Baldwin (D-Wisc.) raised the issue of unemployment among the disabled in her state; Sen. Pat Roberts (R-Kan.) voiced his concern of overregulation by the Labor Department; and Harkin questioned him about workforce training programs, one of the primary obligations of the agency.
Given the GOP hostility toward some of the policies of his predecessor, Hilda Solis, Perez was careful to cast the agency as a potential ally of businesses, rather than an adversary. He often steered his remarks toward job creation, and he said that an "evenhanded enforcement" of wage and hour laws is the best course of action.
"Our system works best when we are responding to the needs of businesses," he said at one point.
BEFORE YOU GO
PHOTO GALLERY
The Obama Cabinet