For those amped up about the possibility of the Summer X Games coming to Detroit, there's a reason to get excited right now. Kevin Krease and Garret Koehler, the two men behind a recent bid to bring the sports competition to the Motor City for a three-year run, are holding a video release party at Eastern Market on Saturday to meet supporters and build momentum for their cause.
The X Games are an extreme sporting competition organized by ESPN that feature activities like skateboarding, BMX biking and motocross. (See here for more details)
It looks to be a totally extreme party.
The organizers will premiere their full-length bid video at the free event and film extra footage to be included in their digital release, which is scheduled for April 23. Catch a sneak peek of new footage from the video above.
Detroit punk rockers Negative Approach will be playing the show, along with Louder Than Bombs. Dial 81 will also be on the premises to provide live hip hop and electronic music.
As expected for an X Games party, ramps will be set up on site so skaters get maximum enjoyment out of the evening.
All ages are welcome at the show, and Motor City Brewing Works will be on hand to provide refreshments to those old enough to legally enjoy them. The XG2D Video Premiere Party takes place at Shed 3 of Eastern Market in Detroit on April 20 at 9.p.m. Visit the event's Facebook page and the flier below for details.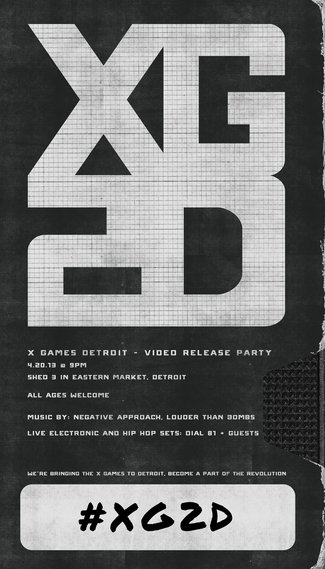 BEFORE YOU GO
PHOTO GALLERY
PHOTOS: X Games 2013