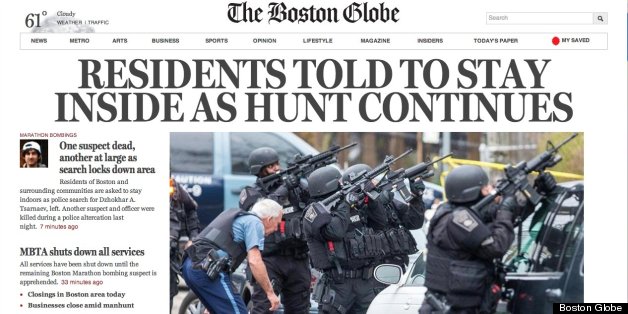 Most Americans woke up on Friday morning to news of chaos in Boston as authorities continue an intensifying manhunt for the one remaining suspect in the Boston Marathon bombings.
A manhunt for the two suspects in the Boston Marathon bombings sent the media into a frenzy starting late Thursday night. One of the suspects — 26-year-old Tamerlan Tsarnaev — died, while his younger brother Dzhokhar Tsarnaev, age 19, is still at large.
The search for Tsarnaev dominated news outlets on Friday morning, with broadcast and cable news networks covering the developments in Boston. Websites also splashed the story on their front pages. Below, see the breaking news pages covering the Boston manhunt.
PHOTO GALLERY
Boston Manhunt Breaking News Pages