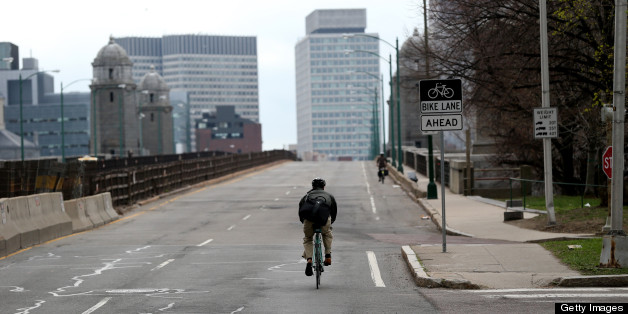 Joe Corkery and his wife sat their 4-year-old son and 6-year-old daughter down Monday night to tell them about the Boston Marathon bombing earlier that day. They hadn't wanted to, but were worried the children may hear about it from friends who knew that Corkery, 36, had run in the race, crossing the finish line 20 minutes before the bombs went off.
On Friday, the family woke to news that the Boston area, including their home in Newton, was on lockdown. For the second time in a week, they would have to discuss a scary situation with their young kids. The police were looking for a person who had set off the bombs, they explained, and were asking everyone to help by staying home and out of the way.
"They were fine with that," Corkery told HuffPost. "They have a lot of questions, though. Like, 'What happens when the police catch him?' My daughter seems to be under the impression that he has to go to the hospital and apologize to everyone, then go to jail for the rest of his life."
Large swaths of Boston effectively shut down on Friday after Gov. Deval Patrick urged residents to stay indoors and lock their doors. Until the lockdown was lifted at 6 p.m., it left parents cooped up and wondering how to best cope with the situation for themselves and for their kids.
Steven Meyers, a professor of psychology at Roosevelt University and a Chicago-based clinical psychologist, said a key for parents is being aware of their children's developmental levels. A 6-year-old can be told different things than a 15-year-old, he said.
But how parents share news matters almost as much as what they share, Meyers said. Kids of all ages are extremely quick to pick up visible signs of distress.
"Nearly all parents [on lockdown] are going to be alarmed," Meyers said. "However, they need to display as little of that as possible in front of their kids in order to reduce the amount of alarm that the children experience.
"It's very hard to do," Meyers continued. "But children interpret the gravity of a situation by looking at the emotional experiences of the adults around them."
One key, Meyers said, is for parents to simply distract their kids, even if it means letting them watch movies or play video games. Meyers suggested parents and kids try deep breathing exercises, and actively divert their thoughts to pleasant or soothing things. There is no shame, he said, in taking their mind off the situation happening around them.
That's what Lindsey Mead, 38, of Cambridge, Mass., has been doing off and on all day Friday with her 10-year-old daughter and 8-year-old son.
"I didn't have the TV on for the longest time," Mead said, adding that she woke up this morning to the sounds of sirens just a mile away in Watertown. "Finally I was like, 'I'm dying to know.' So I turned it on, and shoved them out of the room. I put Harry Potter on the computer. They're at Hogwarts."
But Mead also carefully explained why the lockdown was happening.
"I said, 'Look, I can tell you, with certainty, that we're safe in our house, but I'm not going to lie to you about the fact that I'm nervous about what's going on around us, and I promise I'll tell you if I find anything out,'" she said.
Joy Budewig Harms said she gave her girls, ages 3 and 4, minimal information about the bombing and the lockdown, because she didn't want someone else to frame the situation for them. They have been holding it together well, she said, even sneaking outside to enjoy a little sun in their yard, as their home in Roslindale, Mass., while locked down, is relatively far from "the action."
But in a phone call with HuffPost, Budewig Harms broke down at the thought of the lockdown continuing. Her family was supposed to visit their church, just a few blocks from the Boston Marathon finish line, to join a prayer service and see the comfort dogs being hosted there on Friday, but couldn't. She was tearful about the prospect of missing church on Sunday as well, given everything that has happened. But now that the lockdown has ended, her family will be able to go.
This article has been updated to reflect the end of the lockdown.