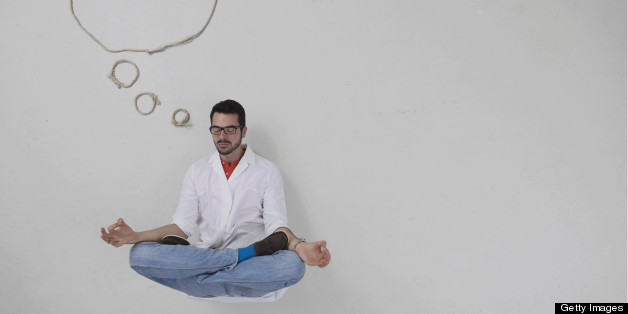 The stress and strain of constantly being connected can sometimes take your life -- and your well-being -- off course. GPS For The Soul can help you find your way back to balance.
GPS Guides are our way of showing you what has relieved others' stress in the hopes that you will be able to identify solutions that work for you. We all have de-stressing "secret weapons" that we pull out in times of tension or anxiety, whether they be photos that relax us or make us smile, songs that bring us back to our heart, quotes or poems that create a feeling of harmony, or meditative exercises that help us find a sense of silence and calm. We encourage you to look at the GPS Guide below, visit our other GPS Guides here, and share with us your own personal tips for finding peace, balance and tranquility.

In her GPS Guide below, Cindy Griffith-Bennet shares a few mini-meditations you can do anywhere. Keep these in your de-stressing toolbox for whenever you need to take a moment for yourself.
I quietly say my name, feel my feet on the ground, take a deep breath, put a smile on my face, and consciously radiate love. I find this helps me to be grounded and have a positive attitude. With a positive attitude, I can accomplish anything!
I take a moment to pull in all my energy back into my self, from where ever it has been scattered. I see my energy surrounding me like I am the yolk of an egg and my energy is the egg white. I feel protected by the shell, yet I see it as permeable. This helps me when I am scattered or drained. It brings me into the present moment and increases my ability to see clearly what my priorities are and have the energy to do what is necessary.
I bring golden light in, through, and around my entire body, knowing it is loving, cleansing and protecting. I use this when I have been around someone whose energy is low or when my energy is low. It helps me to recharge and be able to go through my day, staying compassionate and energized.
Through out the day, I check in to see where I am physically, mentally and emotionally. Are my thoughts positive, am I in the present moment, is my body cared for. This is a great mindfulness tool and helps me to make sure my attitude is positive, I am in the present moment, and I am being good to my body.
Cindy Griffith-Bennett, author of Soul Soothers: Mini Meditations for Busy Lives (published by Findhorn Press) lives with her husband, David Bennett in the Finger Lakes region of New York. She has taught meditation and metaphysics for over 20 years. Cindy is currently writing her thesis for her Masters degree in Consciousness Development on a non relgious-specific spiritual journey based on the Mystics. She is also Co-Author of Voyage of Purpose about her husband's spiritual journey.
BEFORE YOU GO