A bakery in West, Texas, has become an essential part of the town's relief efforts in the wake of Wednesday's disastrous fertilizer plant explosion.
The Czech Stop gas station and deli is a much-loved hub for locals as well as travelers passing between Dallas and Austin. Its neighboring Little Czech Bakery has become famous for its kolaches and kitsch in a region with a rich Czech heritage, Jalopnik reports.
According to Mother Jones both business are located off of I-35, just three miles from the ill-fated plant.
Story continues after photo.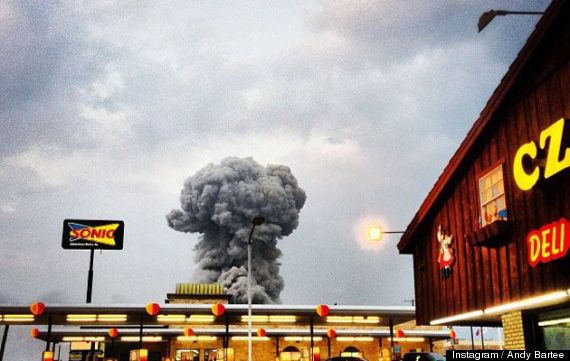 Photo was taken by a customer filling up at the Czech Stop gas station. Credit: Andy Bartee
According to Buzzfeed, when the explosion rocked the town around 8 p.m. Wednesday night, the 24-hour joint kept its doors open and welcomed the injured and shaken to take shelter.
Czech Stop employees rushed to the bakery to help provide food and comfort to the many locals who had been affected, the American-Statesman reported.
"We did whatever we could to make them feel comfortable," Czech Stop president Barbara Schissler told Mother Jones.
Happy to say the Czech Stop is open and serving breakfast to emergency workers. #westexplosion twitter.com/chrissadeghi/s…

— Chris Sadeghi (@chrissadeghi) April 18, 2013
Employees feared the ceiling might buckle after the blast, according to Mother Jones. But when Schlisser determined that there was no extreme damage, she simply turned off the gas pumps in case of another explosion and kept serving baked goods and providing water to the injured or first responders.
"We've never seen anything like this, but we've never closed a single day in 29 years," Schissler told Mother Jones. "You bet we're staying open."
H/T: BuzzFeed
BEFORE YOU GO
PHOTO GALLERY
Hurricane Sandy Random Acts of Kindness