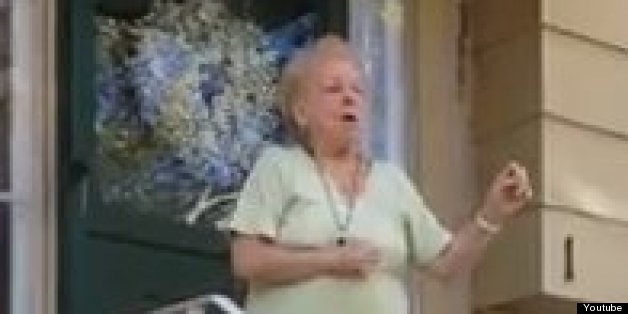 After a week that left us all feeling like we were stuck in the washing machine on spin cycle, we needed some good news and got it: The Dancing Nana turned 89 on Friday. Dancing Nana is the Internet phenomenon who danced her way from her back steps to millions of clicks on YouTube.
What does she have to say about turning 89? According to her official Facebook fan page, her exact words were, "Age is just a number, 89 but I feel like I'm 18 baby!"
Nana was recently moved to a nursing home, where her granddaughter Chelsey Feole reports she is doing great and is a staff favorite.
"As these life changes go, the transition was very tough for Nana and our entire family at first, but her spirits are high and she is a favorite among all the staff! The 24/7 care that Nana receives now truly has put our entire family at ease. Nana is able to attend church daily, participate in fun group activities, make new friends ... and of course, dance all f*cking day long whenever there is music playing or a guest performer! Members from Nana's family visit her on a daily basis, we are all so at ease and thrilled that she is in such a good place right now!"
We caught up with granddaughter Chelsey just as she was headed off to the nursing home. "I can't wait to see Nana!," she wrote in a Facebook message to us. "I will be bringing over a cake, and some small party decorations. My family and I will be taking her out for a nice birthday lunch on Sunday to officially celebrate all together. What a milestone, 89 big ones, so exciting!"
The family also posted the latest Dancing Nana video just this week. It was shot last summer.
Thanks Nana for reminding us about the goodness in the world and bringing a smile to our faces.