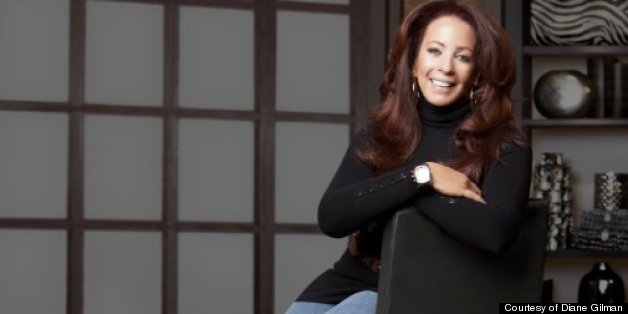 By the time fashion designer and HSN host Diane Gilman reached middle age, she began to feel as if her life was spiraling out of control. She had just lost her husband to cancer, gained almost 60 pounds, had a shrinking social circle and did not like what she saw in the mirror.
"I felt like I had just landed on the black diamond slope, and I was going downhill out of control," said Gilman. "I thought … if this is old age, I'm not signing up for it."
So she decided to make some big life changes.
Gilman started off by losing weight, a change she said rejuvenated her dating life, social life and energy levels. She then rejuvenated her career by starting a jeans company designed specifically for midlife women, and developed her own philosophy about how women can age happily and confidently, a philosophy she calls "aging agelessly." Gilman's new book, "Good Jeans: 10 Simple Truths About Feeling Great, Staying Sexy And Aging Agelessly," outlines this philosophy.
"I'm really in the best part of my career and my life," said Gilman, who is now in her late 60s.
In order to "age agelessly," people must be honest about their lives and if they would like to change something about themselves, Gilman said. Once they identify what that is, they must confront it head on, instead of assuming it will improve naturally.
"There's nothing automatic about looking better and feeling better as you age," Gilman said. "You must see aging as a path you're going to take … and attack it like a general on a battlefield."
She also said post 50s must not be afraid to make their dreams come true, even in midlife. In "Good Jeans" Gilman writes that people must never believe that they are past their prime.
"These should be our golden years, not spent in a rocker creaking on a porch somewhere … but instead a shiny, promising time of discovery that finds us out contributing to and receiving from the world," she wrote.
The above philosophy ties into how Gilman started a successful jean company later in life. Gilman, who previously designed denim for rock 'n' roll stars like Janis Jopin, realized that most jeans were not designed for older women.
"When I hit 50 I realized, 'Wow something is horribly wrong here, I don't have one jean in my closet,'" said Gilman. "There was nothing built for me. As we age we put the weight on the middle, but every jean was for someone with a tiny waist."
Gilman first designed a pair of jeans for her body. The first time she wore those jeans, she received compliments and glances from several men on the street. As she had grown accustomed to feeling invisible in public, she said this was a welcome change.
With those jeans "everything in my wardrobe looked better, hipper and truer to the time," she said. "Even my assistant started treating me differently. I thought, if this can do this much for me, it can do the same for millions of women."
Gilman's jean company, DG2, is now an international success and sold $120 million worth of jeans last year. She believes the brand will only continue to expand.
"I have huge plans, I plan on going around the world with my jeans!" she said.
Gilman hopes the story of her company's success, as well as the tips outlined in her book, will inspire women to make the most out of the second half of their lives.
"My 60s have been my most profitable, best, most romantically fulfilling … years of my life," said Gilman. "If I can say that, so could millions of women out there -- if they would just believe it and give it a try."
BEFORE YOU GO
PHOTO GALLERY
11 Fashion And Beauty Blogs By And For Stylish Post 50s