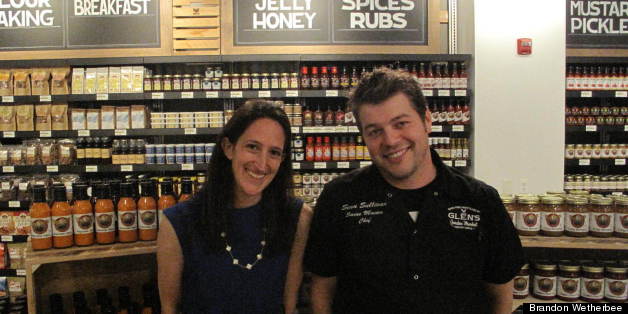 WASHINGTON -- Whole Foods, YES Organic Market and farmers market customers will have a new grocery destination beginning this Sunday. Glen's Garden Market, conveniently located at 2001 S St NW in Dupont Circle, will become the one-stop shop for locally produced groceries.
Glen's Garden Market is the brainchild of fourth-generation grocer, and former staffer for Senator Joseph Lieberman, Danielle Vogel. Her premise behind the grocery store is simple: local. The grocer is only stocking local food and drinks. All products, except for a few staples like spices and cereals that aren't indigenous to the region, come from D.C., Maryland, Virginia, Delaware, Pennsylvania, New York or West Virginia.
Click through the slideshow for a sneak peak inside Glen's Garden Market. Story continues below:
Vogel told The Huffington Post that the process of turning the old "Secret" Safeway into a local-only grocery store began two years ago. In addition to remodeling the space, she also had to create relationships with each small, independent vendors; most of the products that will be sale this weekend are not sold in any other store, Vogel says.
The owner/manager brought Chef Sean Sullivan, who recently helped open The Hamilton, to be the person behind the meat counter. Sullivan, in turn, brought in a Stagionnello refrigerator. The large machine is a meat curer that cuts down curing times. The market is currently preparing a cacciatorino. It'll be for sale in mid-May.
In addition to stocking the store with packaged goods, Vogel is giving office workers another lunch spot with her deli counter and cafe area. Customers will be able to purchase freshly made meals while drinking locally brewed coffee or beer in the front of the store.
Glen's Garden Market opens Sunday, April 21. The grocery store will be open from 8 a.m. to 10 p.m. seven days a week.
BEFORE YOU GO