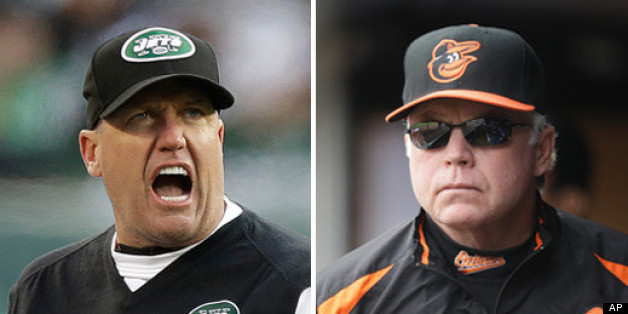 Rex Ryan isn't very happy about the fact that the Super Bowl champion Baltimore Ravens will open the 2013 season on the road.
After the full 2013 NFL schedule was released on Thursday night, the New York Jets coach expressed his displeasure with the Baltimore Orioles for not rescheduling their home game on Thursday, Sept. 5, forcing the Ravens to play on the road if they wanted to a part of the NFL's opening game.
"Well who really cares, you've got 81 at home, maybe you could have done the right thing and given one up and then played 82 on the road and then 80 at home. I really don't think people are going to care about that game," Ryan said on a conference call, via the New York Daily News. "You have a chance to have the defending world champs open up the season at home where they rightfully should. That's unfortunate."
Orioles manager Buck Showalter was asked about Ryan's comments on Friday before their home game against the Los Angeles Dodgers and the skipper offered some advice to the Jets coach.
"I think I'd be a little more concerned about Nov. 24 when the Jets come here and try to figure out a way to beat the Ravens, wouldn't you?" asked Showalter, per Dan Connolly of the Baltimore Sun. "I try to stay out of things I don't know about. Like I don't know about the NFL schedule and the NFL challenges. So that would be my advice [to Ryan]. I would stay in what is my area of supposed expertise."