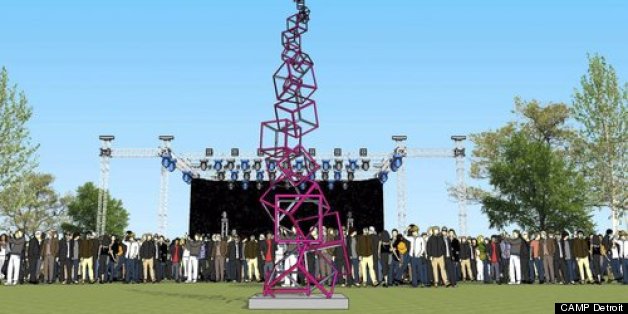 Come Memorial Day weekend, Detroit's Hart Plaza won't just be full of thumping bass and daytime revelers dancing along. Techno fans at the Movement Electronic Movement Festival this year will also get an eyeful of wild art installations designed specifically for the event, thanks to CAMP Detroit.
In its third year, the CAMP Detroit (Community Arts Moving Projects) program offers stipends to artists who live in Detroit or the metro area and have a "strong connection" to the city. This year, individuals and teams of artists working on six projects will receive $1,500 each to create pieces that incorporate light, movement (no pun intended), auto design and vegetation -- look for the huge boombox made of flowers.
The artists come together for several hard-working weeks of production in the CAMP studio this month before setting up their creations at Movement. One of the best parts? After the festival, works get a second life and are slated to be installed in other locations around the city.
We were blown away by the installations from 2012's crop of CAMPers, and this year's winning projects look promising as well. They may not pack a punch in 2D, but turn on some Carl Craig to set the mood, and look below for the winning designs.
Use your imagination -- these artists certainly did.
PHOTO GALLERY
CAMP Detroit Brings Art Installations To 2013 Movement Electronic Music Fest
Images and captions provided by CAMP Detroit.

Movement lasts from Saturday, May 25 to Monday, May 27 and takes place at Hart Plaza in downtown Detroit. For more information and tickets, see the website. CAMP Detroit can be found here.
BEFORE YOU GO