Look who's back!
Anthony Weiner, whose lewd 2011 tweet led to his resignation from Congress, started a new Twitter account Monday amid heightened speculation that he'll run for mayor of New York City.
As of this writing, @AnthonyWeiner, which is verified, already has 2,348 followers. Of the two tweets so far, the first links to Weiner's 21-page booklet of policy proposals for New York.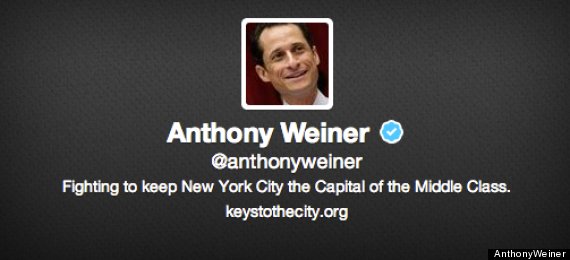 Proposals include a single-payer healthcare system run by the city, tax breaks for businesses that encourage employers to commute by bike, permitting gay men to donate blood, and a "question time" for the mayor, modeled after the British House of Commons.
A recent poll showed Weiner in second place, behind Christine Quinn, in the crowded field of 2013 Democratic mayoral candidates.
Weiner has yet to announce whether he'll run for mayor.
As Azi Paybarah notes, Weiner's old Twitter account is still visible, but only one photo from the account remains.
After Weiner resigned in 2011, he used his @RepWeiner account only once, to link to a video about Hurricane Sandy.