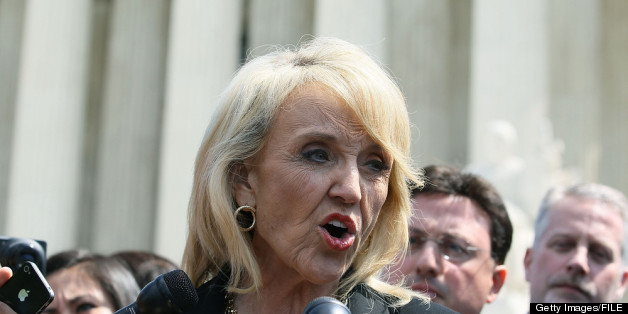 Arizona Gov. Jan Brewer doesn't understand all the fuss about the term "illegal immigrant."
Brewer defended her use of the increasingly controversial term to describe undocumented immigrants during an interview with Jim Avila of ABC News posted to Yahoo on Monday.
"To me they're illegal immigrants," Brewer said when asked if she'd reconsidered her use of the term given that she governs a state where nearly a third of the population is Hispanic.
Avila pressed her on the subject after she gave her first answer, saying that few people call those with traffic violations "illegal drivers."
Brewer paused for a moment before reiterating her defense of the term.
"Well I'm sorry but I believe that if you break the law and you're an illegal immigrant and you're in this country illegally, that you are an illegal immigrant," Brewer says. "We know they're human beings, we know that they're our brothers and our sisters, but we believe in the rule of law and we can't afford it and we certainly can't afford the criminal element, with Arizona having to deal with the drug cartels."
Brewer routinely conflates the issues of illegal immigration and violent crime. Crime statistics reported in USA Today and the Huffington Post, however, show that violent crime has dropped in recent years along the U.S.-Mexico border in Arizona.
The Associated Press abandoned the term "illegal immigrant" earlier this month, marking a major victory for Hispanic media organizations that argue the term criminalizes people rather than their actions and stigmatizes both immigrants and Hispanics.
The massive wire service's decision immediately sent ripples through the media. Within hours the New York Times announced that it would review its use of the term. USA Today, the country's second-largest newspaper by circulation, followed in AP's footsteps by abandoning the term a week later.
Activists including Pulitzer Prize-winning journalist and immigrant rights activist Jose Antonio Vargas will deliver a petition to the New York Times Tuesday asking the paper to strike the term "illegal immigrant" from its style guide, according to Media Bistro.
Check out the rest of the video over at Yahoo!
BEFORE YOU GO
PHOTO GALLERY
Dumbest Commentary About Latinos In 2012